Black Bean and Salsa Salad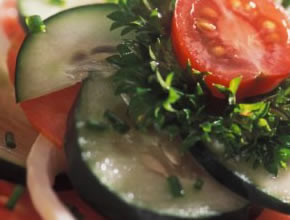 Ingredients:
1/4 cup red wine vinegar dressing
1 16- or 20-ounce jar mild salsa
1 15-ounce can black beans, rinsed and drained
1 15-ounce can corn, drained
1-1/2 cups chopped celery
1/2 cup chopped green onions
1/4 cup chopped cilantro
Directions:
Mix the dressing and salsa. In a separate bowl, mix remaining ingredients. Pour dressing mixture over vegetables and toss. Chill and serve. Serves 6-8 as a side dish. I like to double this recipe because many people like seconds, and leftovers are always consumed quickly.
Recipe submitted by Miriam Phinney. © 1996 by Campus Crusade for Christ, NewLife Publications. All rights reserved. Used by permission.