One Hit Wonders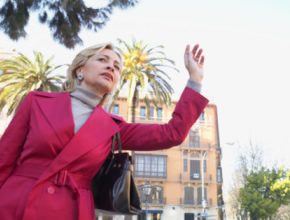 Are you seeing Red?
Red is one of the hottest colors this winter. Colors such as wine, plum, burgundy and purple are also making a strong fashion statement. Pair them up with caramel, tan, camel and other golden tones. If warm color tones are not right for you try silver, grey or the always classic basic black – all excellent co-ordinates for red or plum shades.
Are you seeing Stars?
There's glitter, glitter everywhere this season from t-shirts, jeans, to sunglasses. This fall you should definitely try to add a little sparkle to your wardrobe. Even make-up companies are echoing the fall fashions. High-gloss lipsticks in deep rich bold red and plum colors and glitter shadows are everywhere. Of course, this is the perfect time for glitter hair and body gels too.
Jackets
The newest look this fall and winter is the three-quarter length duster sweater jackets. These are not for everyone so choose carefully. You may want a second opinion before buying one. There is a lot of real leather and suede on the shelves this season. Basic black leather skirt or pants would be an awesome addition to your wardrobe.
Pants
Flares are still the most popular style of pants or jeans. Slits on the bottom of the pant leg are very hot this fall. In most cases, this looks very flattering and I dare to say ..sexy too. Luckily, animal prints are still in, so wear your print outfits like crazy before they go out of style. Some plaids are popular this fall.
Shoes
Boots are always strong for fall. This season we are still seeing square toes, but the pointed toes are also making a strong comeback along with a thin square heel. Shoes are following the same line in camel and sand colors. Fashions and trends are constantly hanging. I've always believed that a little bit goes a long way.
Your one-hit wonders:
A chain belt – one that you could wear with anything from jeans to a dress.
Something red or plum to spice up any basic wardrobe.
A new lipstick with a touch of gloss.
Anything with glitter (glitter jeans, t-shirt, accessories).