Summer Sizzles with Sequins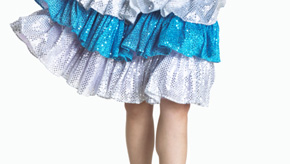 Summer 2005 is full of "bling"—a buzzword used to describe the rhinestones, sequins and beads that adorn clothing, accessories and shoes. The glitz adds a romantic twist with a hint of retro 70s style for the season.
Bright Colors
Textured fabrics, whimsical floral prints, and sparkling sequins add interest and excitement to any outfit. A bold, vibrant palette of rich ocean turquoise, crisp salad greens and shades of golden and mango orange paired with beautiful pink lipstick are the colors to keep an eye out for.
Fun, Feminine Skirts
Summer bottoms
Nothing says summer like a skirt—a great way to keep you comfortable and cool. Ruffles, swing style, straight and narrow, or bohemian cuts are very feminine; choose the style that's most flattering for you. You'll also find them accented with embroidery, sequins and neat appliqués.
Layering with camis, tunics and tank tops
Layering is a popular style. Camisoles are everywhere and come in a wide assortment of colors. These little tops decorated with lace and "bling" provide an ultra feminine look. Add a crocheted 3/4 sleeve sweater or shrug for a more finished layered look. Tunics embellished with sequins, embroidery and beads are also trendy. Add some neck beads and lots of bracelets to finish the look.
Accentuate with accessories
Floral brooches in fabric or rhinestones add sparkle and shine. The bigger the better.
Slide, wedge and flip flop sandals are all accented with flowers and sequins. A pretty pedicure will make your feet dazzle in them.
Bright and colorful beaded handbags pull together the look. Straw and wicker handbags are also on the summer runways.
Bracelets, neckbeads and chandelier earrings are making it big, even with conservative dressers.
Tilly's one tip wonder: Update your wardrobe with some "bling". Choose a sequin top, skirt or sandals. Enjoy the retro 70s look and soak up the sun!