Don't Forget the Bride! 5 Easy tricks to save the day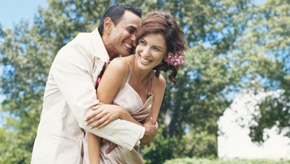 So much work goes into planning a wedding, but many brides forget to plan for themselves on the on the day.  Every bride wants to enjoy her own wedding.  A little planning and a few tricks can keep her well taken care of and ready to be radiant long after the sun goes down.

5 Simple, but practical tips to pave the way to truly enjoying your wedding day:
1. Create a wedding day make-up bag
Two weeks before the wedding, do a complete test of your wedding-day look (make-up, hairdo and shoes). Keep it on for as long as you expect to wear it on your wedding day so you'll know if it will 'go the distance'.
Put together a little make-up bag for touch ups that you can take along with you the day of the wedding to keep you looking your best. On the big day, have a friend, bridesmaid or family member hang on to it or stash it nearby so you can get to it when you need it. Be sure to use waterproof mascara, and don't forget to pack the hairspray!
Hint: When purchasing your make-up, see if you can persuade the sales gal at the cosmetic counter into giving you samples of everything you're buying. (They've got samples, you know they do.) The sample size won't take up much room and it will be more than enough for any touch-ups needed that day.
2. Create an emergency kit for unplanned situations.
Have a friend stash an emergency kit filled with items you may need on your wedding day.  Fill a small bag with:
a travel size sewing kit (you'd be amazed at the magic tricks just one safety pin can perform)
clear nail polish (for panty hose/stocking runs)
an extra set of panty hose or stockings
throat lozenges and aspirin
Kleenex
A granola bar or other snack that doesn't spill or stain – no juice boxes!
Other ideas to consider for the emergency kit include breath mints, tampons, hand cream and band-aids.  Hopefully you won't need anything from the kit, but a this kit can catch a small problem before it becomes a wedding catastrophe!
3. Start your wedding day with a healthy and filling meal
Often brides don't get to enjoy the meal served at the reception, so consider having something to eat before the wedding.  While food may be the last thing on your mind on your wedding day, it's nonetheless important that you start the day with some healthy and filling nourishment. It's going to be a long (and wonderful) day and you'll want to have plenty of energy so you can keep dancing and socializing for hours!
4. Kick off your heels and settle into a more comfortable shoe
Sexy, strappy, ultra-high heels might work perfectly with your wedding gown but they're almost always impossible to dance it.   Keep them for the ceremony and the formal pictures, and settle into something more comfortable for the reception. Get a pretty, more practical pair of shoes that you can change into so sore feet don't keep you on the sidelines.
Practice walking in the shoes you'll be wearing during the ceremony.  Take a test run in the shoes AND the wedding gown and get used to both.  No bride wants to stumble down the aisle.
5. Keep track of time with an itinerary and a point person
Whether you've worked with a wedding consultant or carefully planned everything yourself, you should have an itinerary for the big day. Make copies of the itinerary give them to the bridal party and close family members.  This way everyone will know where they need to be without constantly asking you.
Choose someone to be the point person who will make sure things are running smoothly and reasonably on time. You will be able to rest easily knowing at least one of your deputies will keep track of the time while you're busy greeting those out-of-town guests and brand new in-laws whose names you can't quite remember!