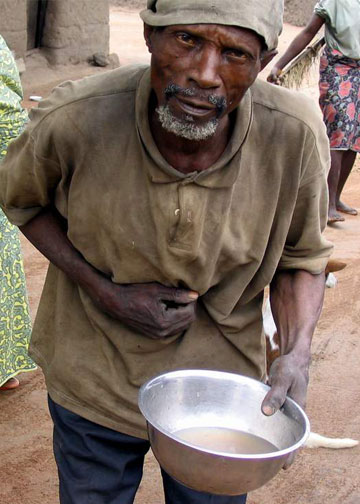 The Curse of Water…
The people of the western African country of Benin draw water from disease contaminated streams, ditches, rivers, or open dug wells. They contract parasites and illnesses, which are often fatal for children and the elderly who fall sick. For these people, the water they drink is a curse on their lives.
Power to Change, through our humanitarian partner, Global Aid Network, is transforming lives in Benin by drilling water wells that bring forth safe, clean water to thousands of people in the name of Jesus. To date, GAiN has drilled 121 wells in Benin, bringing people fresh water and physical restoration.
But it is when the drilling ends that the real change begins in these communities. After every well is drilled, each villager is invited to begin a personal faith journey with Jesus Christ. Working in partnership with nearby churches, we provide support for new believers in the form of discipleship training and bible studies, and training for pastors to plant a new church right in the village.
And the response to the Message is amazing! We have witnessed entire villages transformed by Christ. Jesus is truly at work today at the water wells of Benin providing Living Water – His salvation!

Jesus is lifting the curse, one well at a time.
Matrida was suffering from this curse. When our missionaries first met her, she was considered crazy by the locals. She was very sick and would often beat herself against trees and rocks, scaring the villagers. She was living with witch doctors, receiving voodoo charms and potions to make her better. But nothing helped. In fact, it was getting worse.
It was at one of our wells that Matrida heard the Gospel of Jesus Christ. The GAiN team prayed for her, and as she gave her life to Christ, Jesus set her free and healed her from her sickness!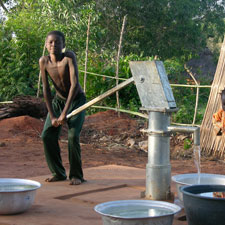 Bring clean water, health and hope to the people of Benin
The cost to drill one well of pure, parasite-free water is $8,500. One well provides clean water to 1,000 people. In Benin alone, our wells have reached more than 121,000 people – but it is not enough. Within the next 3 months, we need to raise $60,000 to bring 7 more wells to this country.
There are so many more who need their physical and spiritual thirst to be quenched. Your gift today will help us free the people of Benin from the curse of unclean water. Please join us as we work to bring Living Water to this nation.