Be Loved For Who You Really Are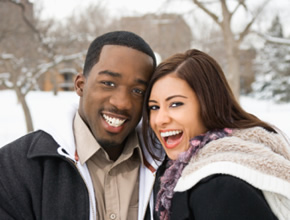 Everybody wants to be loved for who they really are - beneath the masks they wear, the impressions they try to make and the mind games they play. But how do we go about doing that? Two of America's most respected, pioneering and sought after authorities on relationship dynamics, Jim Sniechowski and Judith Sherven, challenge our understanding of love to give us a new vision on how to be loving in a relationship, in their new book Be Loved For Who You Really Are.
Most of the images we have of love and romance come from movies, television and romance novels. They're all about pursuit and capture, dominance and submission. Once the guy gets the girl, the movie ends. That leaves us with a considerably incomplete picture of love as it is in the real world. Love is much more than just an experience of beginnings.

Video: How can you affair-proof your marriage?
Guarding your marriage: Do a Life Lesson on love

Sherven and Sniechowski point out that our culture has a rather poor and adolescent understanding of what love is and what it takes to create real love. At the start of the relationship, we are swept away by emotions and fantasies and expect the other person to fulfill them. When those expectations aren't met and we begin to see the imperfections and differences in our partner, we walk away. We search for the "perfect" partner, not knowing that he/she can never be enough because he/she will always be different from what we expect.
The beautiful thing about a romantic relationship is that love isn't found – it is co-created. Yet there are countless people who search for love as if it belongs to someone else. We don't find love. We find one another and allow love to grow between us.
"That don't impress me much!"
Many of us go on a date with the intention of impressing the other person. A man might lease a car that he can't afford in order to impress a woman while a woman might completely give herself a makeover. Instead of the goal of the date being, "I want us to get to know each other for real and see if we like each other," it is more often, "I want to impress you."
Sherven and Sniechowski point out that if we go out on a first date and put on a show, we are working against emotional intimacy because all that the other person is getting is a false front. Ultimately, that illusion will come apart because it can't be kept up forever. What follows, is resentment and disappointment that is unnecessary if things are done simply and straightforwardly.
If two people are truly interested in one another and want to go out with each other, the authors recommend that they do things like going out for coffee or to other places that are not romantic. That way they can begin to get an idea of who the other person is instead of witnessing the show that both of them are putting on. If they do this a few times before anything more extravagant occurs, they can find out whether or not it's worth going forward without expending emotional energy and finances on a process that eventually leads to nothing.
Ultimately we cannot control whether or not someone will be impressed by us because it is their choice. So it's better to be real instead of setting out to impress someone. Our actions often reflect our self-esteem. Sherven gives us something to think about when she says, "If your focus is on impressing the other person, then you are voting for the belief that you are not good enough as you are. The rejection process has already started, and it has started from within."
Expectations can be limiting
As the relationship progresses past the "honeymoon" stage, some of the masks we initially wore begin to come off. We soon discover that we carry several unrealistic expectations that can prevent us from getting to know the other person for who they really are. It is better to let our partner be him/herself and see what happens.
One of the major expectations that women often bring into the relationship is that the man is going to bring the substance that she's searching for – the money, social connections, adventure and romance. But when the relationship finds more solid footing, she realizes he's just another human being like she is. He can only provide who he is.
Unfortunately, many women who are not satisfied in their own personal lives look to the man to fix it, and he can't. Even if the man actually sets out to fulfill those fantasies, it is an impossible task. Her expectations and his attempt to fulfill them doom the relationship right from the beginning. He cannot be authentic if he is acting according to stereotypes or another person's ideas of who he should be. She will never be happy in the relationship until she accepts him for who is, not who she thinks he should be.
Differences are an opportunity to grow
The importance of partnership comes sharply into focus when there is a conflict. It is inevitable that two people living in the pressure cooker of a long-term relationship are going to crash into each other at some point. They are going to be disappointed in one another, irritated by one another, disillusioned or angered by one another. Many people believe that those conflicts are signs that the relationship is off track. But what drives a relationship off track is not conflict but the inability to handle conflict.
A classic example of this would be of a couple where one person is a spender and the other person is a saver. Although the difference is usually seen as a bad thing, the fact is that they're both out of balance. They have taken their approach to money and finances to an extreme in one direction. What lies before them is the opportunity to learn from each other how to handle money in a much more balanced and respectful manner while working together as a team and relying on each other's strengths. They can create a true partnership out of the differences.
A couple's love is tested through conflict and when they emerge from that still wanting to be together, they have proved that differences can be a good thing. Although many of us have the notion that differences are a dreadful thing, they actually open the way to true intimacy. They give us the opportunity to value how different we are from the one we love and use those differences to grow and change.
"One of the most beneficial things you can do in a relationship is to recognize that your partner is not you! When you really understand that, you won't try to change them into what you think he/she should be and you will get to know them intimately for who they were created to be. Remember, there are two people involved. It's a relationship – not a dictatorship!" say Sherven and Sniechowski.
Curiosity is a powerful tool in a relationship because it means staying open and wanting to know more about the other person. Because of our self-involvement, we often end up missing out on all that an intimate relationship has to offer. When we look at it one way – our way – we miss it when it appears.
We need to love others for who they are if we desire to be loved in the same way. As two people look deeper and deeper into the relationship, they will find that the emotional intimacy between them expands so that there is more room for both of them. And remember that if you're not being loved for who you really are, you're not being loved at all.