My Turn to Blush: Dealing with Differences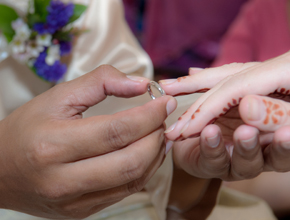 I don't usually hide in bathroom stalls texting friends in order to avoid social situations. But sometimes, it's the only option.  
My husband Varun is Indian and I am not.  Our differences add a richness to our marriage that I've come to treasure, but every now and then they also highlight the importance of communication and grace.  Nine months into his job hunt, someone suggested to my husband that he join professional engineering organizations to schmooze with people in his field. He's Indian, so joining an Indian engineering association was a natural fit. To be precise it was a Punjabi engineering association, but I missed that detail and didn't think to ask.
Varun announced one day that the association was having its yearly dinner. That meant people he could give his business card to, bhangra dancing and unlimited Indian food. I was excited.  I immediately began contemplating which sari to wear and convinced Varun that I wouldn't find it boring and would love to come to the event and support him. And binge on butter chicken. Everyone wins.
The differences matter
I vaguely remember asking Varun if he cared what I wore. He replied rather absentmindedly, "You look lovely in anything." Later, I would wish I had pursued this conversation further. The big day rolled around. I picked Varun up at the train station and we headed to the banquet.
As we stepped inside, I realized two things very quickly.  First, I was the only white person in the room, but second and far more importantly, I was the only woman in a sari. This is the moment when the Indian/Punjabi distinction came bouncing back into my brain. Unlike many other Indian states, the formal dress for Punjabi women is a suit, not a sari. The suit has a long tunic shirt worn over loose pants, rather different than the much shorter, midriff-baring style of a sari worn in many other Indian states.
Thanks to my generous Mother-in-law, I have a trousseau of suits waiting to be worn.  I could have fit right in.  But instead there I was, the only woman in the room exposing my skin. Taking a deep breath, I smiled and decided to go with it. Just because I'm wearing the wrong outfit doesn't mean I'm socially doomed…Right?
Someone had forgotten to assign us a table, so we were seated at the extra table. Alone. After awkwardly looking around and realizing that everyone was socializing with people at their table, we headed to the appetizers buffet. Varun began talking with other businessmen and I sat at the table trying to look lost in eating my spicy meat kabob.
After a while I grew tired of staring at my plate, and got up and headed toward Varun. He was talking to a group of men so I figured I could quietly stand next to him and listen, or at least look social. As I reached Varun, the group stopped talking and looked at me. They waited. I waited. Varun smiled and escorted me back to the table. Embarrassed, I asked what had gone wrong. Varun explained that men and women don't really approach each other or mingle in these situations; a fact he had known implicitly but had sincerely never thought to mention. Humbled, I encouraged him to go back to mingling, as I'd "entertain myself."
I spent the evening wandering around pretending I was looking for someone.  I ate copious amounts of food and realized that without a table assignment, I had no means of meeting people. I watched the men on the dance floor. I took small plates of food to keep me busy, and yes, I hid in the bathroom and texted so no one could see I was alone.
My response matters more
Ever the concerned husband, Varun kept checking in with me and asking if I wanted to go home. I knew, however that it was a good opportunity for him so I encouraged him to stay. I learned a few things that evening: India is a very diverse country about which I still have a lot to learn, and in conservative Indian circles, women shouldn't approach groups of men.
As we got into the car, my cheeks still burning with embarrassment, Varun and I had a good laugh about my attire and awkward social skills. Although that car ride home could have been a painful and heated argument, my pride was subdued. Varun looked relieved that I could laugh about an evening that was not my finest hour.
It's easy for me to take myself too seriously in marriage, like any relationship. Our relationship as spouses is often poisoned by my pride. Pride makes me blister with annoyance when corrected or interrupted, rendering me a grumpy and irritable companion.
I'm slowly realizing that humility is one of the most important ingredients in our marriage. Recognizing that my husband and I are both weak and selfish frees us from expectations and facades. We don't have to fake it in hopes of being loved and accepted by one another. In fact, knowing that we're deeply loved by God despite our brokenness enables us to love each other freely. When we come together honestly and humbly, it gives us space to forgive each other when necessary. When we lay down our pride, we are free to be joyful when encountering confusing cultural differences and to laugh in the face of embarrassment.
Our cross-cultural marriage has more obvious differences than most, but the truth is that each one of us comes into marriage with a unique set of family experiences.  Whether it's the story we don't talk about or a favorite Christmas morning tradition, we all bring unspoken expectations into our new life together.  Those differences can be important, but our responses, how we handle them, that's so much more significant.  If we're willing to laugh and forgive, if we believe that we really are on the same side, then it'll come out okay, even when it's your turn to blush.
Take the next step:
How Facebook affects your marriage
Improving your communication skills as a couple
Want to rekindle your romance? Attend a Weekend to Remember Getaway