How Grooms Are Changing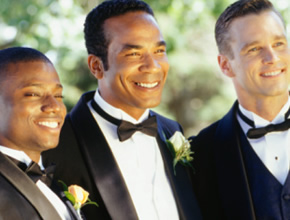 Throughout history it's been taken for granted that the groom's role in planning his wedding should be zero or less. Wedding planning was for women, hardly something a self-respecting groom would involve himself with.
The wedding was "her day"and that was the end of it!
But times are changing . . .  and so are grooms.
TIME magazine (10-3-05 Society Page) cited the results of a research study showing that "80% of grooms are now full active co-partners in the planning of their weddings." Eighty percent!
And these grooms are not just the metrosexual city types who pride themselves in being at the very cutting edge of social change. Not at all. Men from across the entire range of social station—working class guys to high society dudes—are joining with their brides in the planning of their weddings by choice.

Video: How can you affair-proof your marriage?
Guarding your marriage: Do a Life Lesson on love

A little history
The idea that the wedding is "her day" is buried deep in our social unconscious.
Historically, it was her day—the one and only day when she was celebrated as a woman in public.  She was paraded in all her finery and enjoyed more recognition and celebration than she ever had or ever would again. The groom was actually a side-fixture.
But times have changed. The modern bride is a substantial woman in her own right. So she no longer needs that one day to give her a sense of her own being.
It's their day
Today it's become more and more obvious that the wedding day celebrates the joining of two people— the bride AND the groom. It's no longer her day, it's their day. And with that shift in meaning, the door is open for the groom to join in the planning. And why not? Are men so blockheaded and incapable that they have no ideas or opinions for what they want their wedding day to look and feel like?
The truth is quite the opposite.  And the good news is that grooms are becoming involved in all the facets of planning including helping their brides choose the wedding gown. And brides are loving it.
Grooms have told us how proud they were of their wide-ranging participation: wearing a silver engagement ring, insisting on a wedding budget, menu suggestions including Thai food, and Brian, a groom in our book The Smart Couple's Guide to the Wedding of Your Dreams, voted with his bride Melanie to have their honeymoon six months after the wedding so that they could plan and enjoy it separately from the wedding–which allowed for more time with out of town relatives.
Planning their wedding together, the bride and groom establish the foundation for their marriage.  That's not only smart, it's far more romantic than the bride going it alone. And we predict it will bring down the divorce rate.
So guys, claim your presence at the altar by being present all along the way.  Then the ceremony will represent the deep emotional and spiritual meaning that being married has for both of you.