How to Live Single in a Marriage-Minded Society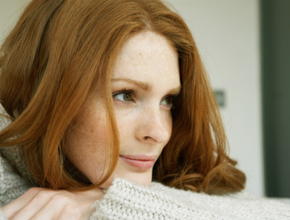 Being a single woman over thirty can often be summed up in two words: borderline insanity! You're fearful that you're running out of time to find The One. You're angry that you are being denied something you feel entitled to. You're envious of friends who are living out the life you so badly desire. You're embarrassed by what you perceive as an epic failure.
You're baffled by why you, of all people, are having this problem. You're uncomfortable in your own skin because of the way other people judge your single status. And you're tired of sitting in limbo, impatiently waiting for your fate to be determined.
So what's a girl to do? You can't cue a husband on demand or change the way you are viewed by other members of society, so how does a single woman find happiness and salvage her self-esteem?
The solution is very clear: if you can't change your circumstances, change your perception of those circumstances. This means you have to stop viewing '30 and single' as something negative. Re-read the first paragraph; obviously you have your work cut out for you! But a new perspective will not only ease your worries and allow for your happiness, but will immediately boost your sex appeal and help you get what you want from men. Now that I have your attention, let me tell you how to get there.
Rethink everything – Ingrained expectations, emotions, and other people dominate your current mindset. I challenge you to hit your mental reset button and rebuild from the ground up using an individualistic, rational approach. In my book, The "Rethink" Remedy for Single Women Over 30, I outline seven areas of your thought process that need restructuring. Here I'll briefly highlight a few that I find extremely prevalent among women.
Rethink the Situation - We often believe that being single over thirty means we are severely flawed or stricken with a terrible case of bad luck. Statistics prove this is not the case. The average age of marriage has increased by almost a decade since the 1950's, and those who marry later in life tend to have happier marriages and lower divorce rates. Following natural progression while setting yourself up for a higher quality marriage doesn't sound so bad, does it? Base your conclusion on facts, not tradition or public opinion, and you'll see that the shift in marital trends is not a disadvantage to women, but rather a process improvement.

Rethink Other People – Studies show that social influence has more power over us than anything. Nothing else remotely comes close. Even if a single woman thinks about her situation logically, society can come back at her with a biased opinion and blow that logic right out of the water. For example, you probably realize that the effort you've put into your education and career has taken time away from your love life, and because you are financially independent there is no reason to rush marriage; just wait for Mr. Right.

It all makes perfect sense until mom starts riding you about settling down, you read an article online that suggests a woman's probability of getting married drastically shrinks after age thirty, and then get questioned by that co-worker about why you are still single; after all, you're so pretty and smart. At this point, rational thinking flies out the window and fear, insecurity, and confusion set in. Is everyone else right? you ask. Stop being dictated by other people and put yourself in charge of your life.
Rethink Relationships – When you go into a relationship with marriage as your number one priority, you are putting yourself at his mercy — he who buys the ring holds the power. You immediately start morphing yourself into someone that he'll want to marry, even if it means selling yourself out. The relationship becomes less about pleasing you and more about pleasing him, and you are far more likely to linger around if things go bad. Put your personal needs over your superficial desires and you'll enjoy much more satisfying relationships.
These ideas appear simple and seamless, but if I were to gather up every single women over the age of thirty who doesn't struggle with marriage anxiety on some level, my guess is they could all fit in my bathtub. As women, we have psychology and hundreds of years of history working against us. Embracing change isn't always easy, especially when everyone else seems to be stuck in the past.
Our female race has unarguably come a long way since the days of being viewed as personal property and limited to the role of housewife or secretary, but the journey isn't over yet. We've made huge strides in our community and in the professional world; now it's time to dominate our personal lives. No woman should ever be defined by her marital status or feel that her happiness is dependent upon someone else.
Unlike inequality and glass ceilings, this is not woman versus society – this is woman versus herself. Being single imposes no legal, physical or financial constraints. The effects are 100% mental. The sooner we realign our mindset to match reality, the sooner we can live the way we were meant to – confident, self-sufficient, and happily ever after.
For more information, please visit www.paraellapub.com .
So what happens next? That's up to you:
Rethink the way you see yourself
Exercise: How do you define yourself?
If you are struggle with this issue, come talk to a mentor (What is this?)