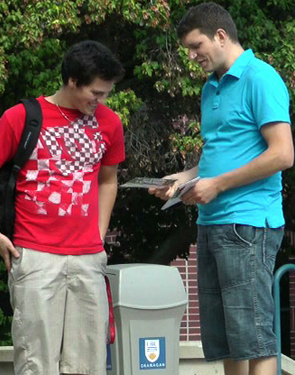 Impact
Sponsor
Innovate
Launch
Send
Support
Helping students discover Jesus

Power to Change – Students is all about impacting the post secondary student world with the gospel. We long for the day when no student graduates without engaging with the life-changing message of Jesus. It's an enormous task and we invite you to join with us in this exciting journey.
Sponsor an existing campus movement

Every fall, more than 2 million students flood the campuses of Canadian colleges, universities and cégeps. By sponsoring existing Power to Change – Students ministries, you can help impact hundreds of thousands of these students with the message of God's love and forgiveness.

Develop innovative evangelistic tools

Reaching students today is a daunting challenge. It is critical to develop relevant strategies and tools to help connect with the realities of the non-believing student as well as provide resources to help Christian students grow and effectively share their faith.

Launch a new student movement

In order to bring the gospel to every student in Canada, Power to Change – Students is diligently working to accelerate its expansion strategy in order to have a ministry presence on every campus from coast to coast.

Send students to reach the world

You can help Christian students use their training and skills to not only introduce others to the Saviour but also to establish and strengthen ministries of evangelism and discipleship around the world.
Support a staff member

Get involved in the rewarding experience of supporting Power to Change staff. Whether through a special gift or regular monthly donation, you'll be touching lives for eternity across our land and around the globe.

The buttons on this page will connect you with opportunities to partner financially with us. You can help sponsor existing campus ministries or launch new ones, finance the innovation of new resources for evangelism and discipleship, support staff and send students to share Christ around the globe. Your gift, however designated, will be used to help students discover Jesus and change the world.

Join with us as we seek to help students discover Jesus and change the world!

From heading up outreach strategies to one-on-one mentoring, bible studies, discipleship groups, retreats and conferences, we're working diligently to engage students with the gospel and help them grow in their Christian life.

Resourcing staff teams and rolling out key strategies throughout the year requires an average of $30,000 per campus. Why not consider sponsoring the campus you graduated from, or one your son or daughter, niece, nephew or friend's child attends?

Through your financial partnership you can play a strategic part in helping Canada's future leaders discover Jesus and impact their world for Christ.
One of the challenges of campus ministry is creating doors of opportunity for sharing with students and communicating the message of God's love and forgiveness in a relevant way.

New strategies and tools play an important part. It takes about $45,000 to fully develop and launch new resources and Power to Change – Students is continually at work discovering and refining new ways to bring the gospel into the student world. Your gift will be instrumental in helping to produce life-changing resources as we continue to reach students where they're at.

To meet the challenge of reaching every student, we've established an expansion team that is focusing on surfacing dedicated Christian students on new campuses and mentoring them so they can effectively reach their peers for Christ.

It requires roughly $10,000 to launch each new Power to Change – Students ministry. Through your financial commitment you will help ignite movements of evangelism and discipleship that will touch students across Canada and around the globe.
Millions of students throughout the world attend university during months of June, July and August. In order to reach out to them, hundreds of Power to Change students commit a portion of their summer to minister at home and abroad through summer projects.

Through your financial partnership you will not only help bring the gospel to students, but also help develop student leaders to reach their peers in their spheres of influence.

Bringing the gospel to the student world is an exciting calling but it takes a dedicated team of financial and prayer partners to make it all happen. By supporting a staff member, you enable them to focus entirely on ministering to students. Whether through a monthly investment or a one-time gift, your partnership with them is foundational to their ministry.

To support a staff member: