College Relationships: Dealing with Annoying People (continued)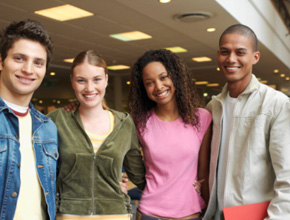 by Mike Gibson
This teacher is Jesus. He is more than a Teacher. He is a Creator. A Cosmic Artist, He is the One who made us and gave us life. He is God.
We are the "Bobs."
We are the people who think of God as an enemy. He is the One who wants to ruin our fun. He is the One we blame for all the pain in the world. He is the One who makes the rules. He is the opponent. … At least that is what we think.
In reality, we are the fickle friends who have abused our relationship with Him. We feign affection for Him when we are around other people who love Him, but we reject Him when we are around those who have no respect for Him. Worse than a Junior High clique, we include and exclude Him at our leisure.
We are the needy ones who cannot get enough of Him… especially when we want something. When things are going great, we pretend that it is all due to our own brilliance, our own inborn goodness. But when things are going bad… we run to Him for help.
In my preteen years, I had a cat named Possum. Possum was a stupid cat. It was not unusual for Possum to pick a fight, get whupped, and run to the closest human for assistance. The human, usually my mom, would try to chase off the other cat. I say "try" because as soon as the other cat would begin to retreat, Possum would jump out from behind my mother and want to fight some more. Until, of course, he started to lose. Then he would run behind mom and the cycle would start over again. Possum was a "Bob."
And so are we.
Anyone else would find us annoying. Anyone else except the Teacher. Anyone else would give up on us. Anyone else except the Creator… Anyone else except God.
Jesus has the right to challenge us to love our enemies, because He has loved us. He can, with integrity, call us to be kind to those who mistreat us, because He has shown kindness to us. He can set a standard for giving to those who are "takers" because He has given to us.
The Teacher spoke from experience. He knows how to deal with annoying people. He knows how to work with the "Bobs." And He shared that information with us.
Does it sound impossible? It does to me, too. It sounds that way because, on our own, it is impossible. The One who taught us must be the One who empowers us… or it won't work. Jesus, our Creator and Teacher, wants to give us life. He offers us the power to love others like He does and become more like He is.
Mike is a youth minister at Baker Boulevard Church of Christ in Fort Worth, Texas. Copyright 2001 iamnext.com May not be used without permission.
Talk to Someone
Upcoming Events
Latest Comments

Callum said: God didn't help discover the planets shape at all,...
Jim van ommen said: So did those of that era who didn't write the B...
Callum said: Also your planet theory is flawed seeing as the...