The Power of Sorry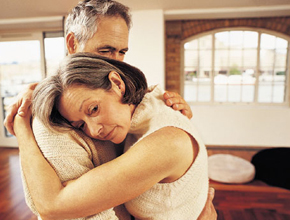 "Love means never having to say you're sorry."

Do you remember that saccharine line from the famous 1970 movie Love Story?  It sounded icky to us then, and it sounds icky to us now. If you came of age under the spell of that cloying mantra, we'd like to set the record straight once and for all: it's a big fat lie that has nothing whatsoever to do with love.
"Sorry" can be a mighty tool in saving your marriage, but in order to take full advantage of its power, we must be trained in its proper use.  First, it's important to understand that there are two types of sorry.
Saying "Sorry"
The first kind is  "saying" sorry.  That's like saying, "I hear you."  Over here, we call it "doing" sorry.  It's superficial and phony and everyone knows it.  It doesn't enhance your relationship, in fact it can unleash a whole host of other demons that are better left undisturbed.
While it's true that if your child grabbed another kid's toy, we would recommend that you train him to "say sorry," make no mistake about its authenticity.  Without also teaching that child about remorse—about "feeling" sorry—you can expect, over the years, that he will learn to use "sorry" as a tactic, like a "get out of jail for free" card good for future transgressions.
Feeling remorse
The second type is "feeling" sorry, or better said, "being" sorry.  This can happen only as a result of acknowledging our responsibility in the matter of our relationships and opening ourselves up to the other person's pain as though it were our own.
Rather than saying sorry as a ploy to shut the other person up; rather than saying sorry to avoid feeling (that dirty word) shame at what we've done, let's say sorry, because we genuinely FEEL sorry.  And let's feel sorry in a way that advances the situation and doesn't leave us wallowing in our self-serving soap opera.
Re-creation

So here's where we'd like to introduce you to a concept called "re-creation."  When you re-create another, you make room for all the emotions, attitudes and points of view that your loved one is harboring.  You actively remove yourself and all the self-indulgent "chatter" that is monopolizing your brain and allow what's troubling your friend or your spouse to take center stage and occupy the entire vacant expanse that lies before you.
Then, and only then—in a space that is void of everything except the other person—can the process of re-creation begin to take place. And by the way, re-creating is not limited to those things that YOU did or said that produced the upset.  Even if your spouse came home from work embroiled in an upset of someone else's making, you can make it disappear through re-creation.
Conceptually, it's simple; it's getting ourselves out of the way that can take a lifetime of practice. But can you imagine the power in that?  Can you imagine the effect it could have on your relationships?
That's the power of sorry.

From "The Four Steps To A Successful Marriage." www.TheFourSteps.com
Take the next step:
 4 Ways to improve your communication
My first & third husband is the same guy
How's your love life? If you have questions, come talk to a mentor (mentoring is a free and private service)