Standing Out in a Tough Economy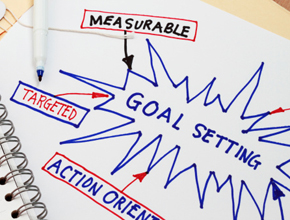 Are you trying to get noticed and advance your career in this difficult economy? You're going to need a strategy. S.M.A.R.T. goals can help you here. S.M.A.R.T. stands for Specific, Measurable, Action-Oriented, Realistic and Time-bound.
Specific answers the questions what, why and how?  Identify what it is that you need to accomplish. Outline the purpose or the benefits of achieving the goal. Focus on the tools and strategies you'll need to achieve your goal. Don't just ask yourself what job you want. Dig deep and discover where you want to end up in 5-10 years.  Start with the end in mind.
Measurable answers the questions such as How much? How many? How will I know when I progress?
Action-oriented. Every time you set a goal, it has to start with a verb to identify the specific action that's needed to be taken in order to successfully achieve your goal. Examples include: "obtain", "change", "create", and "increase".
Realistic.  The goal "Become the President of the US in two weeks and change the healthcare system" is very specific, measurable, action-oriented and time-bound, however it is not realistic.  If a goal fails to be realistic, there is no chance it will be achieved. If you set unrealistic goals too often, that creates disappointment and frustration and discourages you from trying. It is essential for a goal to be realistic.
Time-bound. You have to set the time frame for accomplishing your goal. If you don't, it may take forever and you will get tired and change your focus. Set a deadline by which the goal has to be achieved.
As you try to set your goal, remember to ask yourself: "On a scale from 1 to 10, how committed will I be to achieving this goal?" If the answer is lower than 8, you need a different goal with a different WHY, perhaps a more meaningful WHY.
Get an accountability partner (AP). Having an accountability partner increases the likelihood that you will do what you say when you say you'll do it.  Why? Because of the following five benefits your accountability partner provides.
1. Attention. When you get an AP, you get the essential attention to your goal. It's like making a public commitment to something – you're now not alone in your desire to succeed anymore (your AP desires your success as well). Making a public commitment to achieving a goal is a very powerful way to follow through.
2. Motivation. This is that extra push you need to get started. It is also that extra push you need when daily life happens and tries to take you back to the same old routine.
You can reach out to your AP for that extra encouragement, so you can start and keep moving forward.
3. Information. AP can be a source of information for you when you lack knowledge or experience in some areas. Also, sometimes we just don't really know what it is that we don't know.  Thoughtful questions from your AP can help you figure out what it is that you don't know. Obtaining that extra information will help you stay clear, focused and relevant in achieving your S.M.A.R.T. goal.
4. Ideation. It's nice to have an AP when you're stuck and not sure how to proceed further.  Brainstorming together can take your success in achieving your S.M.A.R.T. goal to the next level.
5. Inspiration. When you make a huge progress and are excited about the results you've achieved, your AP is a perfect person to share that excitement with. It will help you create even more inspiration for even greater future results.
Here are some questions to ask yourself as you prepare to set your SMART goals:
What are the specific strengths of my goal?
What opportunities would it open up for me?
What are the challenges I may face in achieving this goal?
What is stopping me?
What are my concerns about it?
Do I have any fears related to my goal?
Who or what could help me overcome these challenges or fears?
To what extend can I influence the process of achieving my goal?
Am I ready to do my best? Am I 100% committed?
How much time can I commit to finding that perfect career or job?
How many companies should I target in my search?
How much should I network?
How many people should I talk to every day to learn about the specifics of that career or job?
Setting S.M.A.R.T. goals and finding a reliable accountability partner to help you follow through is a great way to differentiate yourself and achieve your desired career goals.
Take the next step:
Watch: Preparing for hard times
How to love the job you already have
Talk to a mentor about your goals