Trust is like Gravity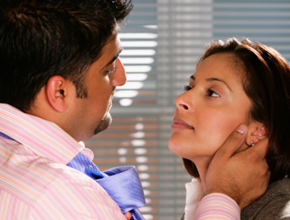 Trust is like gravity – you only notice when it's missing . Also like gravity, trust is what keeps us grounded.  Whether you are conscious of it or not, you and I are constantly making decisions based on trust.  Do you trust that driver is going to stop at the red?  Do you trust the total on your receipt? Do you trust the sign that claims those apples are organic?  Trust forms a foundation under almost everything.  It's even more apparent when it comes to love.
I've seen a thousand Hallmark cards about love, but I've never seen one that celebrates trust.  I wonder why that is? Trust is silent, but vital.  If there's no trust in your relationship you will feel it.  In love, as in life, we are constantly choosing based on trust.  Will he show up? Did she really mean that? Does he feel that way about me? Will she laugh when I'm gone?
Shakespeare warned us, "Love all, but trust a few."  Love is easy.  Trust takes time and effort.  For many people, trust can be scarier than being in love.  Trust puts us in a vulnerable position.   But is this openness, this willingness to be seen that creates a place where love can flourish.  Although it can be scary, if the person is truly worthy of your trust, being in their hands is the safest place of all.
Trust allows you to reveal who you really are. In spite of all the tricks we use to try and impress someone during the early stages of dating, intimacy is founded on knowing and being known. Your partner has to get to know the real you – what you're like when you're tired, angry, frustrated, elated or talking to your Mom on the phone. He has to love you as you are, not as he hopes you might be.  And you have to love him the same way.  Anything less won't last.
To learn more about trust, read "Can You Trust Him".  If you have been hurt by broken trust or just have questions, send us an email.  Our mentors would love to hear from you.  And in the meantime, how about that card?