See the World: Volunteer!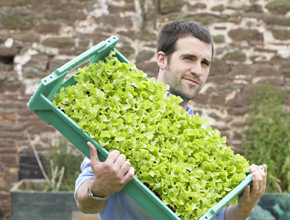 If your idea of the perfect holiday involves fresh air, gorgeous views and incredible food, a working holiday at an organic farm might be just what you're looking for.
I know, I know, work doesn't sound very restful, but if you have a job that keeps you inside, seated at a desk most of the year, you might be surprised how refreshing a little farm work can be.  One of the things that makes modern work so stressful is that it's often hard to see the results of our efforts.  Projects can stay in flux for years with ongoing task lists that are never quite done.
Not so with farming.
If your task is to weed a row, you get instant results. A quick glance over your shoulder will show you just how far you've come.  No one will ever ask for a memo detailing your process or ask you for the most cost effective way to perform the task.  Even better, once the job is complete, it is complete.  There is no room for argument or opinion or rationale.  If all the weeds are gone your job is done and you can go and rest knowing that you have completed exactly what needed to get done today.
It's starting to sound pretty good, isn't it?
If you're ready to try the good life for a few days a site like World Wide Opportunities in Organic Farming can hook you up with a small holding organic farm that is in need of volunteers.  Volunteers work on organic farms, often for 2 weeks and receive room and board and a unmatched experience in exchange.
If you've always wanted to see the vineyards of Tuscany or the wild beauty of Kenya, volunteering is an incredible opportunity to see the world up close.  Come and learn and see how much fun it can be to get your hands dirty!

Are you stressed? If you don't have time for a vacation but could really use one, try our free life lesson Beating Stress.  You'll be matched with a coach who will talk through your answers with you as you learn.
Have you tried volun-touring? We'd love to hear your stories.