Is Racism Natural?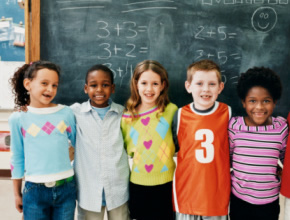 There was a video on CNN yesterday that stopped me in my tracks. It wasn't footage from Thailand, or election coverage.  It is a video of a little 5 year old girl  sitting in front of an image of 5 cartoon children.
The children are all wearing the same dress and the same expression, only the color of their skin is different.  An interviewer asks the little girl "who is the smart child?" "who is the mean child?" Over and over the little girl assigns all of the positive characteristics to the white children and all of the negative characteristics to the darkest skinned child.
I sat and watched, saddened and a little heartbroken until the interviewer asked the girl "Why is she the good child" and the little girl says "Because I think she looks like me."
That really got my attention.
I've always thought of racism as a great evil that is taught, that somehow, for some reason we teach children to hate.  But I found her answer very illuminating.  Don't we, as adults, assume the best of the people are who are most like us? Could the roots of racism really be that simple?
Just because it's a natural response certainly doesn't mean it's acceptable or good and it doesn't excuse us from taking active steps to combat our own wrong thinking. Later on in the clip, the girl's mother fights back tears as she whispers "I guess she just hasn't been exposed."   I wonder about my own childhood – were the children in my story books the same color as I am? Were the dolls I played with?
I know that part of what made Star Wars such a game changer is that Lucas intentionally played with this thinking.  In the movies the Jedis, the good guys, all wear dark colors while the Storm Troopers, the harbingers of evil, are clad in sparkling white.
It's easy to watch this little girl and think "wow, that's sad" but what do I see when I look at my own thinking? What do you see when you look at yours?
How do you combat the mistaken thought that "people who look like me are better"?
More:
Searching for a beautiful woman
Beauty at what price?