@powertochange:
Whether it is growing in your relationship with God personally or with a group, or giving a booklet to someone who… https://t.co/oq1okOXh5r
- Tuesday Feb 5 - 10:07am
Dorothy Ludwig Shoots For Gold
It's the final shot of the 10m air pistol. I'm in third at the Pan American Games. I decide to begin. Breathe in. Breathe out. As I raise the gun, I inhale, bringing it just above target. I exhale to three quarters and look through both sights. They're in alignment with the bull's-eye.
Nervous butterflies from my stomach join the anticipation from my mind and together create an excited fear that threatens to throw off my accuracy. I hold the breath and slowly, precisely pull back on the trigger. The shot breaks. I lower the gun and release the last quarter breath, not seeing where the shot hit. My team is shouting behind me and I'm waiting for a correction, a tie, something. I just won gold by 0.01th of a point and qualified for the London Olympics.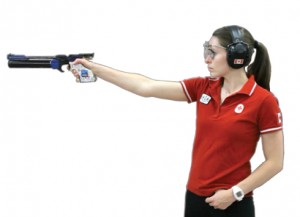 Olympian Dorothy Ludwig tells of her journey to compete at the highest level of sport. "In 2007, I went into the finals of the Pan American Games in first place. I lost the Olympic quota spot all by myself and went from 1st to 4th in one shot. I had to work through a lot of disappointment and come to understand who I was." Dorothy says the birth of her son brought perspective to her pain and a renewed sense of identity. "I didn't understand who I was without sports. I was so crushed – so hurt by my own failure. When I became a mom, I started understanding that my identity was bigger than sports. I'm a wife, mother, daughter, and Christian. I realized life was more than one thing. My eyes were opened."
Qualifying for the Olympics involved some tough choices for Dorothy, who had to leave her newborn for four days to be in Mexico in 2011. "It was extremely difficult. But it was something I decided to do and wanted to achieve. I told myself I would go. Compete. And come home." By making such a clear distinction in her mind, Dorothy was able to be focused on a specific purpose. "I excelled because I was relaxed, not thinking about gold at that point. I just thought, 'I'll do my best and come home.'" Winning the quota spot was something very few of Dorothy's teammates had ever done.
Heading into Olympic competition, Dorothy tried to have a similar, relaxed state of mind, but found it a bit more difficult. "You see so much [about the Olympics] on TV – different athletes – it's easy to get wrapped up into it a little bit." Dorothy felt her nervousness becoming fear rather than anticipation. "There are lots of decisions, paperwork, and interviews that I wasn't used to. It was difficult to cope." When Dorothy arrived in London for her ten-day stay, things were "a little less strange."
"Multi-sport games are very similar," says Dorothy. "There's a village, uniforms, teams… [the Olympics are] just bigger, but once you're there you don't even notice. Five rings are just a symbol."
Dorothy was also calmed by the presence of her younger sister and competitor Lynda who joined her as coach in London. As only one of two shooters for Canada, Dorothy was grateful for her sister's presence. "[Lynda] made the experience more special, it wouldn't have been as amazing without her." Dorothy had to defeat Lynda in competition in order to reach the Olympics, but Dorothy says her sister was, "graceful, understanding, forgiving, and supportive."
Besides excellent coaching and a supportive family, Dorothy has another source of strength, comfort and encouragement: one that she says never leaves her. "It's easy to get stressed. For me, it's taking the small breaths and inviting God back in." What does it mean to find God in the small breaths? Dorothy explains: "I didn't used to connect God specifically with athletics. But I found that there's a lot of moments in daily life where we need God's help. It's similar in shooting." Dorothy confidently reminds herself that she has trained, practiced, and worked hard, and in those moments, she "gives it up to God."
"Every shot consists of small breaths – focusing and refocusing. I find God waiting there – encouraging, supporting, upholding. They come during everyday living, too. At stoplights, between sips of coffee, or waiting for a print job to be done. You think you're all alone, but God is with you every moment. It's encouraging to have Him walking beside you all the time, to care that much about you."
Dorothy takes comfort in an ever-present God, which allows her to have patience and be relaxed. "Enjoy the moments He gives you and you'll find your cup is overflowing."
Dorothy works in the Finance Department at Power to Change headquarters in Langley, BC. She is an Administrative Assistant.
---
STAY CONNECTED
Power to Change Newsletter