Girl Guide Brownie Cupcakes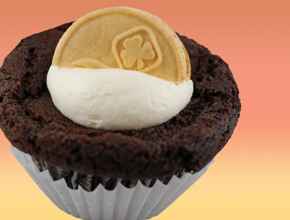 It's that time of year again: Girl Guide Cookies are on sale across Canada! What could be better than Girl Guide cookies? How about Girl Guide Cookie Cupcakes? Girl Guides of Canada-Guides du Canada challenged Canadian chefs and bakers to create their most scrumptious recipe using their famous cookies. This delicious recipe comes from Heather White and Lori Joyce, The Cupcake Girls.
Girl Guide Brownie Cupcakes
Ingredients (makes 9 brownies)
1 box (524 g) German chocolate cake mix
1/3 cup (75 mL) evaporated milk
1/2 cup (125 mL) butter, melted
9 classic vanilla Girl Guide cookies, plus more for topping (optional)
Cream cheese frosting (recipe below)
Instructions
Preheat oven to 350°F (180°C).
In a bowl, mix together cake mix, evaporated milk, and melted butter. Stir together until totally combined. Mixture will be very thick.
Liberally brush or spray a muffin pan with vegetable oil. Do not use cupcake liners –they will be very hard to peel off the brownie.
Divide half the dough into 9 portions and press into the muffin pan. Place a whole classic vanilla Girl Guide cookie on top.
Divide the leftover dough into 9 portions and press on top of each cookie.
Bake for 20 minutes. Leave brownies in the pan until cool. These are delicious as is, but even better when topped with cream cheese frosting and chopped classic vanilla Girl Guide cookies.
Cream Cheese Frosting
Ingredients
1/2 cup (125 mL) butter, room temperature
1 package (250 g) cream cheese, room temperature
2 – 3 cups (500-750 mL) icing sugar, sifted
1 tsp (5 mL) vanilla extract
Instructions
With an electric mixer, mix the butter and cream cheese together, for about 3 minutes on medium speed until very smooth. Scrape down the sides and bottom of the bowl to ensure even mixing.
Add the vanilla extract and mix. Slowly add the icing sugar. Keep adding until you get to desired sweetness and thickness.
Spread on brownie cupcakes with a blunt knife or spatula, or spoon into a piping bag and pipe a dollop on your brownie cupcakes. Top with a piece of Girl Guide cookie.
At $5.00 a box Girl Guide Cookies are a delicious way to support Girl Greatness in local communities. Girl Guide Cookies are the official fundraiser for Girl Guides across Canada and the classic chocolate and vanilla cookies are a time-honoured Canadian treat. Use the interactive map to find cookies near you.  You can also find all six cookie recipes on girlguides.ca.
More ways to support girls:
Self Esteem is important – rediscover yours
Too young to be hot – developing a healthy view of sexuality
10 Tips for Dads of daughters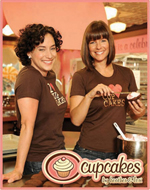 This recipe was developed by Heather White and Lori Joyce, stars of The Cupcake Girls on We TV. A shared dream between two 15-year-old best friends has become a reality. Today, Heather and Lori are recognized as two of BC's top entrepreneurs – and they hope that their success, longstanding friendship and love for what they do will inspire others to achieve their own personal goals (and eat Cupcakes). Used with permission.