Jesus Is Worth Everything
Do you ever get that deep-down feeling like there must be more to the Christian life than what you're experiencing? You're right. Jesus came to turn everything upside-down and inside-out. "Life to the full" – that's His promise to us, and that's what The Life is all about.
"I have come that they may have life, and have it to the full." (John 10:10)
We're so excited to launch our brand new initiative, The Life. The Life calls people to full and unqualified commitment to Jesus, equips them to share their faith, and trains them to inspire others to do the same.
The Life commitment begins when you pray this prayer:
Dear Jesus, I want you in the center of my life and commit through your power to serve and obey you. Anytime. Anywhere. At any cost. To do anything.
When you make The Life commitment, what's important isn't the words you use, it's that you're deciding to make your entire life about loving, following, and serving Jesus – no holding back. Together we'll learn how to make our lives count for Christ.
Treasure: Jesus is worth everything is a seven-week series you can do in a small group or online.  It's not just a Bible study, it's a story based discovery series. Each week you'll start in the Scriptures and ask God to speak to you. Then there's a video to watch and a set of questions to lead you through a journey of discovery.
What would your life look like if nothing was off-limits to God? How could He use the things that are in your hands today? You watch the rest of the series on our new site:
Kits for small groups are also available: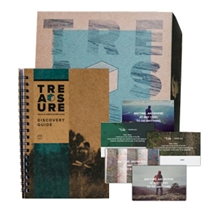 This kit gives you everything you need to run Treasure: Jesus is worth everything in your church or small group. The kit includes all seven episodes on both DVD and in HD on a thumb drive along with a discovery guide and Life cards to share. Additional discovery guides can be purchased separately. The kit is available for $49 at the resource store.
A digital-only version of the series is also available for just $9.