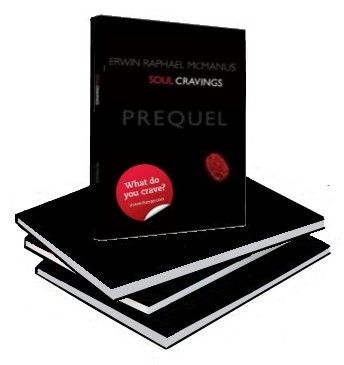 Discover how God can meet your soul's deepest longings.
Prequel includes refreshing insights and discussion-starters that inspire your search for meaning in life.
"There is something out there to be found, and our souls are restless to find it" -Soul Cravings Prequel
"…Shows that all of humanity is equal and shows how we are trying to solve the cravings for intimacy, destiny and meaning." -Leonard Buhler
"..reads like a series of lively late-night college sessions about the meaning of life, with enough transitions and common threads to pull reader-participants along..." -Publisher's Weekly
Get it here
Purchase this unique resource from Amazon, Kobo, and Power to Change. It will soon be available on Google Books.
More about the book
Based on the full-length book by Erwin McManus, the Soul Cravings Prequel is a 60-page booklet that helps start faith conversations based on our universal soul cravings.
A fabulous tool for engaging today's culture in conversation about Jesus through their soul cravings for intimacy, destiny, and meaning in life.
We can spend our whole lives trying to satisfy the one insatiable part of our being, our soul craving. Our capacity for spiritual experience both proves our need for something greater than ourselves and leaves us wanting when we fill it with anything but God.
Soul Cravings prequel is a powerful, down-to-earth exposition that interprets our need for intimacy, meaning, and destiny as common sense apologetics pointing to the existence of and our need for God. The book will deeply stir the reader to consider and chase after the spiritual implications of their souls deepest longings.
A quick peek at the book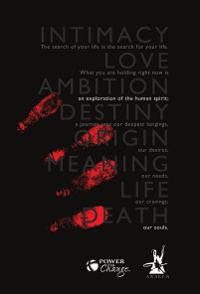 All of the things you will learn in this book cannot be explained in a short description. You will gain 60 pages of insight. Here is a quick summary of what you will find inside.
Table of Contents
Crave
Destiny
Intimacy
Meaning
Discover
This book divided the most fundamental human cravings into three areas, the need for intimacy, destiny, and meaning. What do you crave the most?
Intimacy
We all desire to be known and loved. No one wants to be alone. Belonging central to what it means to be human, so what happens when you're all alone?
Destiny
You were created with purpose. What makes us want to become more than we are right now?
Meaning
The need for meaning is made up of significance, truth and trust and those three are closely entwined. How do you define meaning in your life?
Read the first few pages of chapter one, Crave. (PDF file, opens in a new window)
Choose your desired version of this book.
The only thing left to do for you is to pick your version.
About the author
Erwin Raphael McManus is an artist, filmmaker, author, storyteller, activist, and innovator. He sees imagination as humanity's greatest resource. For over 30 years he has specialized in the field of creativity, innovation, human uniqueness, and discovering and maximizing personal genius.
Erwin serves as the principle visionary and primary communicator of Mosaic (church) in Los Angeles.
He is the author of An Unstoppable Force, a Gold Medallion Award finalist; Chasing Daylight; Uprising: A Revolution of the Soul; The Barbarian Way; Stand Against the Wind; Soul Cravings; and Wide Awake.