A Mother's Love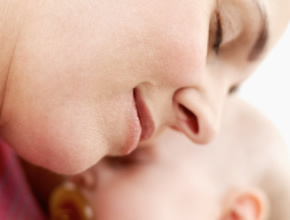 Being rejected by the very one who gave birth to you is a hard thing to live with.
I can remember at the age of three or four, seeing my mother's hard, cold face as she turned her cheek to me when I wanted to give her a good night kiss. Why doesn't she love me? I wondered. I didn't have an answer, but I knew that she just couldn't.
I had many feelings growing up with my mother. She was a lot of things I did not ever want to be. She would sleep until noon and leave me to fend for myself. She frequently cheated on my father, who was suffering from schizophrenia.
Eventually, I got to live with my grandparents. Off and on, my mother would move in with my grandparents, my brother, sister and I. She and my father divorced, and when I was thirteen my father committed suicide.
My grandmother worked all the time and my mother had no control over me. In fact, we did not speak if we were in the same house. She would come and go with my brother and sister and I would be home alone with Grandma, who allowed me total freedom. With peer pressure and little guidance, I began to make some wrong choices in my search for the love that I had never received.
I got married at sixteen just to get out of the house and to have the family I never had. The relationship was abusive, and I was restless, so I ran away with another man and I became pregnant.
All the things I hated in my mother began to take place in my life. I tried so hard to avoid her mistakes, but I remained in a lifestyle of promiscuity and neglect of the little girl I gave birth to. My life was spinning out of control, and when the spinning stopped I landed back home without my child. She was two when I left.
One night, in a bar, I met a man named Joe. Three short weeks after I met him we were married.
It was then that I began to look for a way to turn my life around. I could feel something tugging at me, pulling me to leave the lifestyle I had been trapped in. I believe that "something" was God.
I began to seek Him out. I needed to know who God was, why He'd made me and what purpose there could be for my life. Fortunately, He promised us that if we seek Him, we will find Him. Jesus said, "Everyone who asks will receive, everyone who searches will find, and the door will be opened for everyone who knocks." In 1993, I met God.
I learned that I could have a personal relationship with God, through His Son, Jesus Christ. He would love me and never leave me. He would forgive me for the things I had done and make me a new person. I could have the family and the love I had never known through Him. I invited Him into my life and I have been walking beside Him ever since.
My hatred for my mother caused me a lot of years of pain, but I finally realized that I was not hurting her. I was hurting myself and I was in bondage to her because I held her in my heart full of hate. God released me from this when I forgave her. A couple of years ago I came face to face with my mother at my grandmother's funeral. I told her about the changes in my life and I told her that I forgave her. I was able to tell her that I loved her.
I am still separated from my oldest daughter, but she knows that I love her and that I made some wrong choices. I am now raising three of my own children and my sister's child. When I look into the eyes of my sister's baby–who is now the same age as my oldest child was when I left her–I can see myself at that age. I know that Jesus forgives, as I am allowed to be the mother I never knew.
Take a look at your life. How would you describe it? Contented? Rushed? Exciting? Stressful? Moving forward? Holding back? For many of us it's all of the above at times. There are things we dream of doing one day, there are things we wish we could forget. In the Bible, it says that Jesus came to make all things new. What would your life look like if you could start over with a clean slate?
Living with hope

If you are looking for peace, there is a way to balance your life. No one can be perfect, or have a perfect life. But every one of us has the opportunity to experience perfect grace through a personal relationship with God through His Son, Jesus Christ.
You can receive Christ right now by faith through prayer. Praying is simply talking to God. God knows your heart and is not so concerned with your words as He is with the attitude of your heart. Here's a suggested prayer:
Lord Jesus, I want to know you personally. Thank you for dying on the cross for my sins. I open the door of my life to you and ask you to come in as my Savior and Lord. Take control of my life. Thank you for forgiving my sins and giving me eternal life. Make me the kind of person you want me to be.
Does this prayer express the desire of your heart? You can pray it right now, and Jesus Christ will come into your life, just as He promised.
Is this the life for you?
If you invited Christ into your life, thank God often that He is in your life, that He will never leave you and that you have eternal life. As you learn more about your relationship with God, and how much He loves you, you'll experience life to the fullest.