At All Costs: When Success Isn't Enough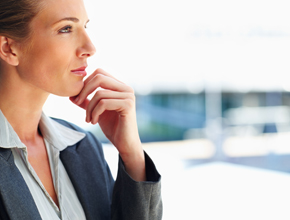 What value is it to climb the ladder of life to the top, only to find out that it was leaning against the wrong building?
I did just that. I climbed the ladder and achieved a level of success envied by many. But somehow, it wasn't enough.
I was raised in a loving family in a large city in Alberta, Canada. I had good parents who loved me and taught me right from wrong, frequently taking me to church when I was young. Intellectually, I believed there was a God-a distant and unavailable being higher than myself-but I didn't feel that I was important to Him. During my teen years, I searched for answers. I read the Bible all the way through. I tried praying things over and over, but felt like my prayers didn't go farther than the ceiling. He still didn't seem real.
When I was sixteen, I met Steve. I enjoyed math and excelled in it, but it wasn't one of his favorite subjects. One day our teacher asked me to help him out, and it was soon clear that Steve was more interested in the tutor than the tutoring.
We dated for about a year and then went our separate ways. During this time, I made some poor choices and strayed from the values I had been raised with.
As I entered university, I put my search for God on the shelf. I thought that I could find fulfillment and purpose in life through hard work and a profession. I studied hard and I was a very disciplined student, very driven and goal oriented. My educational degree was obtained in three and a half years.
I graduated with distinction and received letters to continue into graduate school. In my first interview with a school district I was promised a job immediately because I held a flawless evaluation in my resume. I had obtained all kinds of success, but still had an emptiness inside of me that success couldn't touch.
It was during my years at university that I met up with Steve again. He, too, had wandered from the values he had been taught at home and had already been through a marriage that ended in divorce. He was just beginning his career with the family mining business. He was searching for answers, too.
Together we decided to get to know God better, so we joined a Bible study with some Christian people. It was there that I discovered what I had been missing-it was a personal relationship with Jesus Christ that made the difference.
God was real, and I was important to Him. He loved me even when I tried to live my life my own way, without Him. Through His son, Jesus, I could know Him and find the fulfillment I had been looking for. I prayed a simple prayer.
I knew that this was the answer for me, yet I was scared because a relationship with Jesus Christ involved committing my whole life to Him and asking Him to take control. I was afraid that God would want to send me to Africa as a missionary. I must tell you that I have been to Africa twice now to share my faith and would gladly go there to live if God directed me there. So the biggest decision of my life took place as I invited Christ into my life to lead me where He wanted me to go.
Steve and I were married in January of 1980. It was -40 degrees outside as we packed up and moved to Northern Alberta. I was a new wife and beginning a new life with Jesus.
I enjoyed a short term teaching job with some handicapped children and then moved to an upper primary group until our daughter was born. We moved to a different province in our country and I worked part-time for two years before taking on a full-time class of 13 year old kids. This was a challenge, and I enjoyed challenges. However these challenges took up a lot of my time. My family and my time with God suffered. I had once again put God on the shelf. My priorities had shifted and this was causing a lot of frustration in my life. I discovered that I was still trying, and failing, to find fulfillment in my career.
After discovering that I was pregnant again with our second child, I made arrangements to job share after the baby was born. However my priorities had an immediate shuffle and my teaching career halted once my son was born. Scott had very twisted and deformed feet. At the time, we were living in a very small town in Northern Canada and we were seven and a half hours away from the orthopaedic surgeon. We had weekly then biweekly trips out to change the casts (supports) on his legs. Then it changed to monthly trips for surgeries and braces.
My fulfilment could no longer be met by my career. I turned back to giving Jesus Christ my life with all these new challenges. During those years I was comforted by something that Jesus said: "My peace I give you, My peace I leave with you, I do not give as the world gives. Do not let your heart be troubled and do not be afraid."
The word peace in the Bible does not just mean quietness or absence of war. Peace in the Bible is about completeness, wholeness, harmony and purpose. It means getting things back to where they were intended to be. This is what God promises to give everyone who calls on His name. He is here for all who want Him. He loves us all and wants to share His nature and His plans with us.
When my desires to return full-time to the school system became greater again, I turned to God for direction. He met that desire in a very unique way. Today I coordinate prayer groups for the schools of our city. These groups, called Mothers Who Care, meet weekly to pray for students, teachers, and administrators. I also do a lot of volunteer work in our school and have participated on many different committees.
I know that in trusting God with my life I can have a peace and purpose in my life, whether He directs me to be in the workforce or to be a stay-at-home mother. For me it is very reassuring to know that God is in my life. He has promised me a place in heaven, and He is a God that will never fail me.
"There is only one relationship that matters, and that is your personal relationship to a personal redeemer and Lord. Let everything else go, but maintain that at all costs, and God will fulfill His purpose through your life." -Oswald Chambers
Take a look at your life.  How would you describe it? Contented? Rushed? Exciting? Stressful? Moving forward? Holding back? For many of us it's all of the above at times.  There are things we dream of doing one day, there are things we wish we could forget.  In the Bible, it says that Jesus came to make all things new.  What would your life look like if you could start over with a clean slate?
Living with hope

If you are looking for peace, there is a way to balance your life. No one can be perfect, or have a perfect life. But every one of us has the opportunity to experience perfect grace through a personal relationship with God through His Son, Jesus Christ.
You can receive Christ right now by faith through prayer. Praying is simply talking to God. God knows your heart and is not so concerned with your words as He is with the attitude of your heart. Here's a suggested prayer:
Lord Jesus, I want to know you personally. Thank you for dying on the cross for my sins. I open the door of my life to you and ask you to come in as my Savior and Lord. Take control of my life. Thank you for forgiving my sins and giving me eternal life. Make me the kind of person you want me to be.
Does this prayer express the desire of your heart? You can pray it right now, and Jesus Christ will come into your life, just as He promised.
Is this the life for you?
If you invited Christ into your life, thank God often that He is in your life, that He will never leave you and that you have eternal life. As you learn more about your relationship with God, and how much He loves you, you'll experience life to the fullest.