In the Face of War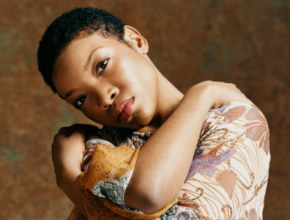 Annonciata Kalinijabo couldn't hold back the tears as she updated her husband over the telephone. Rwanda was at war. Life in Kigali, the capital, was mayhem. What's more, a cousin had just told her that Tutsi rebels were installing a military tank on the hillside near their home.
Three days earlier, on April 6, 1994, an airplane carrying Rwanda 's president had been shot down causing tensions between the country's two major tribes, the Hutu and the Tutsi, to erupt. A massive manhunt and slaughter of Tutsi and politically moderate Hutu quickly followed.
"I'm frightened," Anny admitted to her husband. Her voice broke as the long-distance telephone lined crackled. "What if there's gunfire exchange?"
Before Jean-Claude could answer his wife or comfort her, their telephone connection was lost. At that moment, the distance between them seemed greater than ever. Jean-Claude was in the United States pursuing graduate studies. Anny was working for UNICEF in Kigali, and had just given birth to their third child, Anita Hosanna.
Although raised in a religious home, Anny wasn't in the habit of praying to God or attending church. To her, it felt empty. She was disgruntled by the inconsistencies she saw in the lives of some church-going people around her. "I knew there must be something better. So, I kept searching."
But with her country at war, Anny didn't have much time to search for God. Instead she was consumed with two things: surviving and caring for her children.

Flee now
On April 14 – only eight days after the war had begun and nine days after Anita's birth – Anny's situation became desperate. Six armed men had searched her home and a neighbour told Anny she was on the death list. Anny's two sisters (who had come to help with Anita's birth) were also targets. Although Anny's sisters were of mixed descent, they had prominent Tutsi features. Both were tall and thin with straight noses.
"We must leave Kigali today!" thought Anny.
Quickly she arranged for her sisters to have identity cards that accurately declared them Hutus. With a cousin's help, Anny and a crew of four women and five children joined a convoy of soldiers' families evacuating the capital.
On her way out of the city, Anny saw the horrors of Rwanda 's civil war.
People who had been massacred were still lying in the street. "It was awful," says Anny. "There were dead people everywhere." Some still writhed in pain. Others were burned. Some were naked.
Strangely, as they faced roadblock interrogations, Anny felt no fear. "There was peace in me, even though I didn't know where it came from," she says. "Although I hadn't met him yet, somehow I knew there was a God able to rescue us."
Fifty kilometers later, Anny, her sisters and the children arrived unannounced and unharmed at the home of Jean-Claude's brother. For the next three months, they remained safe in Gitarama. During that time, Anny watched as her sister Agnes, a Christian, prayed about their plight and entrusted their situation to God.
By the end of June, however, Gitarama was no longer safe. Thousands of Rwandans were passing through the area, fleeing northwest to Zaire. And where there were refugees, there were rebels attempting to take control.
Concerned for their lives, Anny's family spent nights lying in ditches while machine guns sounded in the distance.
Anny knew it was time to leave.
Go North
Wrapping her family's belongings in a sheet, Anny, along with her sisters and two sons, Adelin, 9 and Gilbert, 7, fled on foot. They descended into a valley, crossed a river by canoe, climbed a mountain, and spent the night in a forest.
Early the next morning, the travelers successfully flagged a man and his family traveling in a pick-up truck. Squeezing in alongside the man's goats, Anny and her family began a two-day trek to the Zaire border. Three times, they were interrogated at roadblocks about their tribal affiliation, Each time they were detained before reluctantly being allowed to continue.
Finally, at the border town of Gisenyi, two UNICEF workers noticed Anny in the market. They had been combing the countryside looking for her. She had only one day to cross the border and would need official papers for everyone in her party, they told her. Otherwise, UNICEF might not be able to help them in Zaire.
Before Anny could contemplate her next step, she recognized a man with whom Jean-Claude had studied. He was an intelligence officer and could authorize their passports.
"I didn't know I needed his help until I met him," says Anny. "My heart knew that this wasn't fortune or luck. It was God in my midst."
The following day, Anny and her crew crossed safely – and officially – into Zaire.
Back home
Three months later, Anny and Jean-Claude returned to Kigali with their children, Their country, however, was now largely deserted. More than one million had been murdered; others had fled and not returned. Only five percent of Rwanada's seven million people remained.
Having been through so much in such a short time, Anny found herself yearning for God. Invited by a friend, she attended church. That evening was the first time she learned how she could have a personal relationship with God through Jesus Christ. Without hesitation, the 34-year-old committed her life to God. Deep down, she knew she had been searching for him all of her life.
"I discovered a personal Saviour who is in the midst of the details of my life," says Anny. "I used to hear people say that Jesus died for everybody. But I didn't understand that because He died for me, I can have new life in Him."
While rebuilding a life in Kigali, Anny began focusing her thoughts and actions on God daily. She found herself able to forgive others and restore relationships with people who had hurt her. She began telling the truth. And she was no longer afraid to die.
Reflecting on the war and her flight to safety, Anny sees the hand of God in her circumstances. "I believe God wanted me to see His presence throughout the whole situation," she says. "He had a plan and He was preparing everything so I could come to Him once and for all."
What are you searching for? Are things you dream of doing one day? Are there things you wish you could forget? The Bible is all about redemption. It says that Jesus came to make all things new. What would your life look like if you could start over with a clean slate?
Living with hope

If you are looking for peace, there is a way to balance your life. No one can be perfect, or have a perfect life. But every one of us has the opportunity to experience perfect grace through a personal relationship with God through His Son, Jesus Christ.
You can receive Christ right now by faith through prayer. Praying is simply talking to God. God knows your heart and is not so concerned with your words as He is with the attitude of your heart. Here's a suggested prayer:
Lord Jesus, I want to know you personally. Thank you for dying on the cross for my sins. I open the door of my life to you and ask you to come in as my Savior and Lord. Take control of my life. Thank you for forgiving my sins and giving me eternal life. Make me the kind of person you want me to be.

Does this prayer express the desire of your heart? You can pray it right now, and Jesus Christ will come into your life, just as He promised.
Is this the life for you?
If you invited Christ into your life, thank God often that He is in your life, that He will never leave you and that you have eternal life. As you learn more about your relationship with God, and how much He loves you, you'll experience life to the fullest.
When their lives were threatened once again in 1997, Anny and her family fled to North America. Still burdened for Rwanda 's 60 000 widows and 200 000 orphans, Anny and Jean-Claude intend to return one day to bring hope and healing.