The Healing of a Hurting Heart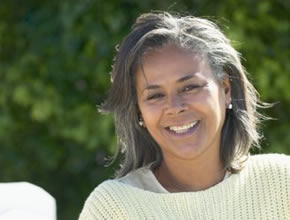 For the first twelve years of my life, I grew up unconsciously trying to please – whether it was teachers, friends or my parents. My dad was an alcoholic, and our home was like a roller coaster based on his moods. My parents divorced when I was 12 and I learned to be very independent. I went to work part time to help Mom out with the finances.
I excelled in academics and had a very difficult time fitting in at school. I wanted to be a  part of the "crowd" so badly that I began smoking just to look cool. My grades declined and I ended up failing an entire year. By the time I was 15, I had been working in an office just long enough to decide that I enjoyed money more than school. I quit school at the age of 16.
Looking for independence
I moved out into my own apartment and wanted to live an adult life. I got caught up with people ten years older than I was who encouraged me to begin going to nightclubs. This was the first taste of what I thought was freedom. I began dating men much older than myself, most of whom had drug or alcohol problems.
My boyfriend sexually assaulted me when I was 17. The "freedom" I had found in this lifestyle led me to an unwanted pregnancy, which I ended in abortion. At that time, I felt no remorse, my emotions were numb. When I met a man I knew asked me to move in with him in California, I jumped at the chance to run away from my life. But in California, things only got worse. The relationship became very destructive and ended badly.
Looking for the right guy
I kept thinking that if I just found the right person, everything would change and I would finally be happy. After returning home, I began working at a downtown nightclub. After two years, I started to wonder if this was all there was. I started dating a guy I worked with and when Christmas came, he introduced me to his family. They seemed so happy and together, so unlike my family. They had something different. I found out that he had been brought up in the church and that the entertainment industry had lured him away several years earlier. I wanted to know more so I began to read a Bible I had been given as a child.
We dated for a few months, and one day he told me he no longer wanted to see me. I was devastated. Just when I thought I had met someone who really cared for me, it was over. The funny thing was that even through my tears, I sensed the only thing to do was find out more about God so the next evening, I went to a local church. The sermon was titled, "Hurting Hearts." All I could do was call out to God and ask for help.
Looking for something that would last
Through my Bible reading, I realized that God does love me and He has a plan for my life. The Bible told me that if I confessed the sin in my life and believed that Jesus is the Son of God, He would come into my life. He would forgive me for everything and not only clean out the stuff I had stored up, but – when I died – I would know I had eternal life with Him in Heaven. As I left for home, I had a peace in my heart about everything – even the man who left me. I just knew it was going to be okay.
We met up again days later and decided to stay friends. A month after that, he gave his life back to Jesus. One and a half years later, we were married. Jesus Christ is exactly who He says He is. He has turned my life away from self-destruction and has given me the hope and security I looked for in every other way.
Take a look at your life.  How would you describe it? Contented? Rushed? Exciting? Stressful? Moving forward? Holding back? For many of us it's all of the above at times.  There are things we dream of doing one day, there are things we wish we could forget.  In the Bible, it says that Jesus came to make all things new.  What would your life look like if you could start over with a clean slate?
Living with hope

If you are looking for peace, there is a way to balance your life. No one can be perfect, or have a perfect life. But every one of us has the opportunity to experience perfect grace through a personal relationship with God through His Son, Jesus Christ.
You can receive Christ right now by faith through prayer. Praying is simply talking to God. God knows your heart and is not so concerned with your words as He is with the attitude of your heart. Here's a suggested prayer:
Lord Jesus, I want to know you personally. Thank you for dying on the cross for my sins. I open the door of my life to you and ask you to come in as my Savior and Lord. Take control of my life. Thank you for forgiving my sins and giving me eternal life. Make me the kind of person you want me to be.
Does this prayer express the desire of your heart? You can pray it right now, and Jesus Christ will come into your life, just as He promised.
Is this the life for you?
If you invited Christ into your life, thank God often that He is in your life, that He will never leave you and that you have eternal life. As you learn more about your relationship with God, and how much He loves you, you'll experience life to the fullest.