The Need For Intimacy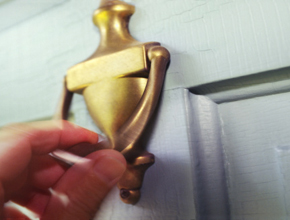 I grew up in a religious, working class home. To me, God was somebody distant. He was someone who wasn't interested in my life.
Yet I had a hunger and a thirst for knowing who God really was.
A missionary and her photographs

I went on a missionary trip to Scotland . We went through the inner city of Glasgow, knocking on doors and telling people about Jesus. Some people slammed their doors and some people were polite. But the majority of people had absolutely no interest. One day my group and I went to the top of a block of flats and said, "We'll just knock on this last door."
A dear old lady opened the door and welcomed us in, almost as if she were expecting us. She even offered us tea. When we sat down I noticed all the photographs around the room. I asked her, "Louisa, who are the people in the photographs?"
"These are all people who have come to know Jesus Christ," she said. She began to talk about Jesus with us. It was as if she knew him personally and as if he was in the room with her. She, too, was a missionary and her gentleness of spirit had a huge impact on my life.
A tangible and real God

When I went back to Ireland, I got involved in doing things for the poor. But I still felt unfulfilled. I really struggled, until my girlfriend, who is now my wife, came home one evening and said she had committed her life to Christ.
I went upstairs, knelt at my bedside and started to pour out my heart to God. I said, "God, I need you in my life." There was no dramatic experience, but for the first time I felt peace in my life.
For years I had struggled with confession, sin, and guilt. That night a peace I had never experienced before came into my life and I knew Jesus was real. I began to weep as I realized for the first time in my life that Jesus loved me. He died for me and cared about me. God became so tangible, so real, someone I could relate to. He was someone who was near and close at hand. That was a turning point in my life.
Take a look at your life. How would you describe it? Contented? Rushed? Exciting? Stressful? Moving forward? Holding back? For many of us it's all of the above at times. There are things we dream of doing one day, there are things we wish we could forget. In the Bible, it says that Jesus came to make all things new. What would your life look like if you could start over with a clean slate?

Living with hope

If you are looking for peace, there is a way to balance your life. No one can be perfect, or have a perfect life. But every one of us has the opportunity to experience perfect grace through a personal relationship with God through His Son, Jesus Christ.
You can receive Christ right now by faith through prayer. Praying is simply talking to God. God knows your heart and is not so concerned with your words as He is with the attitude of your heart. Here's a suggested prayer:
Lord Jesus, I want to know you personally. Thank you for dying on the cross for my sins. I open the door of my life to you and ask you to come in as my Savior and Lord. Take control of my life. Thank you for forgiving my sins and giving me eternal life. Make me the kind of person you want me to be.
Does this prayer express the desire of your heart? You can pray it right now, and Jesus Christ will come into your life, just as He promised.

Is this the life for you?
If you invited Christ into your life, thank God often that He is in your life, that He will never leave you and that you have eternal life. As you learn more about your relationship with God, and how much He loves you, you'll experience life to the fullest.