Suicide seemed like a good option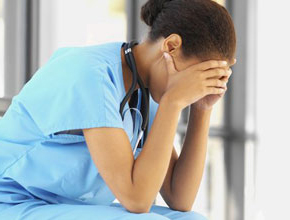 You are not alone. Others struggle with suicidal thoughts too.
"I'm sorry, you're just not working out."
The words pierced my heart like daggers of ice.
"A nurse just has to be able to relate well with her patients. How can anyone who is sick or dying feel comforted when you fall apart at the drop of a hat? Unless a miracle happens, you will be failed (from this program) within a few weeks."
My eyes stung as I tried to hold back the tears. My instructors were right–I had no confidence when I was with people. But nobody knew how hard I was trying! There was nothing I wanted more than to be a good nurse, but somehow it just wasn't happening. I wanted a fresh start, but I was a failure.
Though I'd had an average childhood, my experiences as a teenager left me feeling humiliated, confused, withdrawn and without any sense of self-worth. In the seventh grade I had transferred to a new school, and I was very excited. Until one day in January.
Going to my locker to pick up my books, I was met by some of my classmates. My new "friends" beat me up.
I might not have had so much trouble dealing with this betrayal at the hands of my peers if the unwanted attention had quickly faded away. Instead, it escalated. I was labeled "Bush Bat" and my classmates would cringe at the sight of me. Gradually, other kids in the school joined in. I was pushed in the hall, knocked on the skull with class rings and, on many occasions, pelted with spit wads for entire forty-five minute class periods.
As soon as I could after graduation, I moved as far from home as possible to try to establish a new name for myself as a respected nurse.
But now, as my instructor spoke, it was obvious that the years of rejection had left me severely scarred. Not knowing what friendship was like, and never understanding what meaningful conversation was, I did not know how to comfort my patients or approach my co-workers. I blurted my questions and comments without realizing the effects of my words on others. I blundered my way through delicate situations, causing many anxious moments for the people around me. My parents couldn't understand how I could get such high grades in my "book-work" and still be such a terrible nurse.
Having no one to turn to, and certain that I would shame my family if I failed school, I decided that there was only one thing left to do. Unless that "miracle" occurred, I would commit suicide.
The next day, the hospital cafeteria was unusually crowded. A girl in her late twenties asked if she could sit with me because there were no empty tables. As we ate, she chatted about a singles' group that she was organizing. She wondered if I would be interested. I was too depressed to think about meeting more people, but just to be polite, I took her number anyway.
That evening, I was unable to concentrate on my studies. Why invest all the time and effort when I would be flunking out anyway? Maybe I needed someone to lean on. Maybe . . . I needed a boyfriend. I dialed the number the girl in the cafeteria had given me.
Friday night she picked me up and drove me to the meeting. As soon as we got there, I felt very uneasy. It was held in a church. As an atheist, I hoped that I wasn't going to be in the middle of some "religious thing." A few minutes later, I found out that the singles' meeting was actually a Bible Study for single people and I was outraged. Yet as the night progressed, many people introduced themselves to me and seemed interested in talking to me. My anger cooled, and I began to feel a strange sense of–could it be?–acceptance.
The next week, I debated whether or not to go back to the singles' group. After all, I had no interest in religion whatsoever. Then I received a phone call. One of the girls called just to say "Hi." Was this what it was like to have a friend? I wondered.
The second meeting had a different speaker than the first. This man started reading from the Bible, and for some odd reason, the words made sense to me. The Bible always seemed like a tangled maze of mysterious words, and I considered it too archaic to be of any value. But this night, for some reason, it seemed to come alive for me. I went home puzzled that night–both because of the Bible's sudden pertinence to my life and because I felt a strange sense of belonging.
The next night was Saturday, however, and I was alone in my dormitory. I tried to sleep, but I was overcome with fear for the weeks ahead. I had tried every way I knew to overcome my lack of confidence and tact, but the more I tried the worse I failed. Plans for how and when I would die filled my mind.
But then, for some reason, I started reflecting upon the meeting I was at the night before. It was the first place I could remember feeling unconditional acceptance. Those people were different than anyone else I had ever met. I wondered why.
Maybe I'd been wrong all those years. Maybe there really was a God.
I didn't know, but I did know that my own ways of dealing with life were leading me quickly to destruction. I cried, "Oh, God, I don't even know if you are real. But if you are, please hear me. Please take over my life. I can't do anything right. Just run my life whatever way you want to. I'm giving it over to you." Then for the first time ever, I felt a sense of peace and assurance enfold me like a warm blanket would enwrap a helpless, newborn infant.
As the days and weeks passed, I started to read the Bible. As I read about the life of Jesus, it brought me to tears to realize that though I had nothing but rejection and failure for years, Jesus had His arms open wide to receive me as His very own child to love and to gently lead through this life. I learned that nothing could separate me from the love of God–no person, no situation, no failure, no sin. He loved me no matter what! Suddenly, the biggest social reject around found herself loved and wanted by the God of all Creation!
I gave Jesus control of my life and I let him decide whether or not I would pass school. As I became aware of His care for me, I was also becoming aware of His vast love for others. My focus shifted off of worrying about every move I made at the hospital, and onto how I could benefit those around me.
My instructors noticed the dramatic change in how I related to people. Suddenly, I truly cared for those around me and wanted to be an asset to the patients–not just so that I would be respected, but so that they would be strengthened and comforted. I passed that semester, and eventually graduated with honours.
I have now been a nurse for 17 years. I have worked in many places. Some situations have been more demanding than others, but there is one thing I can say for certain: God has never let go of my hand. Knowing that God Himself is in control of all things – and that He promises to work everything out together for good – has given me peace and comfort during the most trying moments and freed me up to be a compassionate nurse instead of a ragged and rattled bundle of nerves.
Jesus said, "Come unto me, all ye that labour and are heavy laden, and I will give you rest."
If you have never thought about giving Jesus control of your life, you may want to consider doing just that. Read His word–the Bible–and you will find that Jesus is a God of compassion and love, and has a special heart for the weary and rejected. He can take even the darkest moments in your life and turn them around for good as you trust Him.
Take a look at your life.  How would you describe it? Contented? Rushed? Exciting? Stressful? Moving forward? Holding back? For many of us it's all of the above at times.  There are things we dream of doing one day, there are things we wish we could forget.  In the Bible, it says that Jesus came to make all things new.  What would your life look like if you could start over with a clean slate?
Living with hope

If you are looking for peace, there is a way to balance your life. No one can be perfect, or have a perfect life. But every one of us has the opportunity to experience perfect grace through a personal relationship with God through His Son, Jesus Christ.
You can receive Christ right now by faith through prayer. Praying is simply talking to God. God knows your heart and is not so concerned with your words as He is with the attitude of your heart. Here's a suggested prayer:
Lord Jesus, I want to know you personally. Thank you for dying on the cross for my sins. I open the door of my life to you and ask you to come in as my Savior and Lord. Take control of my life. Thank you for forgiving my sins and giving me eternal life. Make me the kind of person you want me to be.
Does this prayer express the desire of your heart? You can pray it right now, and Jesus Christ will come into your life, just as He promised.
Is this the life for you?
If you invited Christ into your life, thank God often that He is in your life, that He will never leave you and that you have eternal life. As you learn more about your relationship with God, and how much He loves you, you'll experience life to the fullest.