Healing the Pain of Bad Choices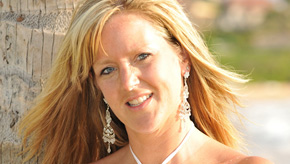 My child hood was filled with love and happiness but I still felt very alone and empty inside. I was fairly popular throughout school and I enjoyed being friends with everyone. My grades were fine. I excelled in choir, drama, and volleyball. Yet, there was a void in my life I couldn't understand. I kept asking "Why do I feel empty inside?"
I tried smoking and drinking to appear cool to my peers. I became sexually active at a very young age, and that brought more despair, guilt and heartache. I was much too young. My interest in dark music grew and I often had thoughts of suicide. I had many boyfriends and soon found myself in a relationship far too serious for a girl my age.
Pregnant and 15 years old
I became pregnant and was faced with the horrific question of keeping or terminating the pregnancy. A nurse tried to reassure me by telling me that the fetus wasn't really a human until it took it's first breath of air. After a week of deep thought and despair, I made a very painful decision. I was afraid of losing my boyfriend, losing my friends, losing my freedom and being shunned by the community. I put my needs ahead of the baby.
I decided to terminate the pregnancy. Afterwards, I still felt I was living in a deep darkness and I became very depressed. I felt lost, alone, afraid, scared and tormented by my choices. My parents didn't know about my abortion until eight years later. If there was a God, I thought he must hate me even more now and he couldn't possibly forgive me for what I had done. To keep my sanity, I dived into school activities and sought comfort in parties on the weekend. I was searching for something more, but I didn't know what.
Meeting the man of my dreams
Before graduating from high school, I met my future husband in Winnipeg. I went there with some friends for the weekend, and he was there visiting some college friends. We hit it off and dated for two and a half years long- distance. Our courtship was a great romance that swept me off my feet. Because he lived in Saskatchewan and I lived in Minnesota, we wrote letters, phoned often and spent a lot of money on gas and airfare!
During the weeks we were apart, I spent a good deal of time trying to find myself, searching for a better me. Tim was aware of my deep pain and inner turmoil, and stood beside me as I searched. Our love for each other grew deeper and more real and we married in 1990.
Married but still lonely
We made our home in Saskatoon. I left my family, my friends, and my country. I remember thinking I would feel complete now that I was married. But after our second year of marriage, I found myself very lonely. We started thinking about starting a family of our own and one year later, our first daughter was born. What a beautiful miracle! It was a healing for me personally as those haunting memories from my teen years resurfaced and I was able to start opening up about my grief.
Having a baby allowed me to slow down and I quit working and joined a mom's group at a nearby church. Every Tuesday morning about 100 moms and their children met for a brunch, a speaker, crafts, and a bible study. This became the highlight of my week. After meeting some wonderful women in the program, I started to re-evaluate my life: I had a good husband, an adorable baby, a nice home… why did I still feel unloved and unworthy?
Finding my real value
The women at the group had something that I didn't have. Not riches and gold, not fame or fortune, but a gentle peace about them that I couldn't explain. I started to ask more questions, and opened up to friends about family issues and personal hurts. They prayed with me. A friend asked me if I had ever received Jesus Christ as my personal Lord and Saviour. She explained to me that God loves me but that sin keeps me separate from him. I needed to believe in him through faith.
I went home that night and I couldn't sleep because my heart was heavy and afraid. I went downstairs into my kitchen and prayed. I was tired of being afraid and feeling so all alone in my pain. I wanted to allow Jesus to heal me and change me into the person He wanted me to be. That night, I declared Jesus Christ as my personal Lord and saviour. His love set me free. I no longer have to search for acceptance. I no longer need to have guilt and anguish over the choices of my youth because Jesus has forgiven me. Jesus loves me and I have joy and peace and I feel complete!
Take a look at your life.  How would you describe it? Contented? Rushed? Exciting? Stressful? Moving forward? Holding back? For many of us it's all of the above at times.  There are things we dream of doing one day, there are things we wish we could forget.  In the Bible, it says that Jesus came to make all things new.  What would your life look like if you could start over with a clean slate?
Living with hope

If you are looking for peace, there is a way to balance your life. No one can be perfect, or have a perfect life. But every one of us has the opportunity to experience perfect grace through a personal relationship with God through His Son, Jesus Christ.
You can receive Christ right now by faith through prayer. Praying is simply talking to God. God knows your heart and is not so concerned with your words as He is with the attitude of your heart. Here's a suggested prayer:
Lord Jesus, I want to know you personally. Thank you for dying on the cross for my sins. I open the door of my life to you and ask you to come in as my Savior and Lord. Take control of my life. Thank you for forgiving my sins and giving me eternal life. Make me the kind of person you want me to be.
Does this prayer express the desire of your heart? You can pray it right now, and Jesus Christ will come into your life, just as He promised.
Is this the life for you?
If you invited Christ into your life, thank God often that He is in your life, that He will never leave you and that you have eternal life. As you learn more about your relationship with God, and how much He loves you, you'll experience life to the fullest.