Facing Bankruptcy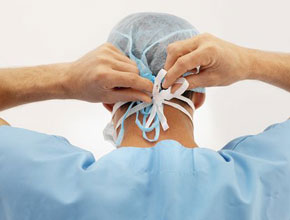 In 1979, three years after he had founded Kinetic Concepts, Inc. (KCI), Dr. Jim Leininger was facing the bugbear of entrepreneurs everywhere – bankruptcy.
From the beginning
An emergency room physician from San Antonio, Texas, Jim founded his company on an invention that had been inspired by his work: the Roto Rest bed, a critical care bed that gradually rotates patients from side to side to help prevent fluid build-up in the lungs. Believing this therapy was essential to preventing life-threatening complications in patients who were immobilized while recovering from trauma or surgery, Jim, along with a handful of employees, began to market the Roto Rest out of KCIs "head office:" a one-bedroom apartment.
Up until he embarked on this venture, Jim was a successful doctor with a good salary. But launching the company eventually drained his resources to the point where both he and KCI were about to declare bankruptcy.
What are my options?

As Jim was considering his options, a friend suggested that he talk things over with his wife, Cecilia, because he had heard that most divorces were caused by financial problems. Heeding his friend's advice, Jim sat down with Cecilia and told her what was going on, explaining that they may even have to sell their home. "Are you okay with that?" He asked hesitantly.
Her response both surprised and touched the young doctor. "As long as you love me, I'll live in a tent and be happy there," she said.
"That was probably the greatest time in my marriage for me," says Jim. It was also a real call to faith. Realizing there was nothing else he could do, Jim got down on his knees and asked God for help.
Blinded to the truth
Although Jim was raised as a Christian, he had slowly wandered away from church, to the point where he now declared himself an agnostic. He had never been able to deny God completely, but didn't think there was any way we could know anything about God for certain. But as Jim prayed, God showed him how his intellectual pride had blinded him to the truth. "I realized how patiently God loved me just where I was. As soon as I called out to him, the Creator of the universe revealed himself to me, just one little person – he loves me that much!"
Shortly after Jim's prayer, two key investors came forward and poured finances into KCI. This investment pulled KCI back from the brink of bankruptcy and created a sudden, dramatic increase in sales. Over the next two decades, KCI grew into what it is today, a global corporation with 2,500 employees and a full line of health care products.
Jim, who still retains a one-third ownership in KCI and serves as its Chairman Emeritus, has also experienced phenomenal success outside of KCI, founding or co-founding nearly 50 other businesses and organizations.
God's faithfulness
Today, he still marvels at God's faithfulness in that dark moment. "I've had several people tell me, 'That same thing happened to me, and I prayed about it and I still went bankrupt.' I don't have an explanation for that. But one thing I can say is that if we call on Him and we're sincere with our entire heart, then He will answer us. And I can tell you that I was totally sincere. There was nothing of 'Jim' left. I was totally poured out and totally exhausted."
Have you reached the end of "you?" Are you ready to ask Jesus for help? If you don't know Jesus, we encourage you to pray the following:
Lord Jesus, I want to know You personally. Thank You for dying on the cross for my sins. I open the door of my life and receive You as my Savior and Lord. Thank You for forgiving my sins and giving me eternal life. Take control of my life. Make me be the person You want me to be. Amen.