Increasing my Capacity for Leadership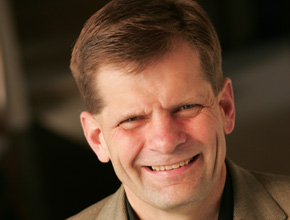 I thought I had come up with the formula for managing stress. I even taught it at stress management seminars. But it wasn't until I found true risk-free security that I knew how to battle stress for good.
Conquering things beyond my ability has always been a part of who I am. At 8 years old, I was already operating all of my dad's farm equipment. He started asking me to make decisions at a young age. My dad would ask me which tractor to buy. He would lay out the pros and cons of each model before I made my informed decision. He let me look at all his books about business and farming. We got involved in partnership very early on and started a farming operation called Isaac Buhler & Son.
Finding a way to handle stress
I made it my determination to continually expand everything I did. I wanted to increase my capacity for leadership right from the beginning. In the process I was careful to define myself as a leader, not a farmer or businessman, but a leader. It's no surprise that handling multiple companies, expanding them and leading them, was sometimes stressful. Stress is a part of everyone's life and people deal with it in many different ways. I needed to find a way to handle stress if I wanted to keep expanding my business.
I was in my 30s when I realized that defining my stress capacity was the key ingredient to handling stress. There were many areas in my life such as my marriage, my relationship with my children, my finances or my job that affected my stress level. For instance, if my wife and I had a disagreement in the morning, it might use up 30% of my capacity to carry stress that day. But if I had breakfast with my wife and she encouraged me in my work, she can actually add to my capacity to carry stress instead of taking it up.
I found that if I didn't concentrate on loving people, the time I spent feeling negative towards them took up my stress capacity. It is very easy for a person to let this part of their life use up their capacity to handle stress. Once I realized that there were better things I could spend my time doing, I was more able to manage my stress and maximize my stress capacity.
Reducing risk, finding security
As someone who tends to push the envelope in life, I wanted to add to my stress capacity. I knew that to do that, I had to reduce risk. To reduce risk, I needed to have security. Often people try to find security in RRSPs, toys or large assets. I have found that the ultimate stress management tool for me is to have eternal security. This security and peace is only found through Jesus Christ.
I believed in God when I was 12 and was very active in my faith and the church. However, in my 30s, I became disillusioned by my success and God became less important to me. After a period of time, I realized that my success could not fill the void in my life or give me the security I needed. Something was missing, and no matter how successful I was it wasn't quite enough.
One night I was listening to talk by E.V. Hill. He said, "If the message of Jesus Christ and the cross of Christ doesn't change every minute of every day for the rest of your life, you either don't believe it or don't understand it." I will never forget those exact words, because they made me reflect on everything I was doing. I realized that Jesus Christ wasn't changing every minute of every day of my life. If there really is a Heaven and a God, then surely how I live today will be impacted by that. I knew that I wanted to follow God and pursue a life with Him. I started to truly understand the security and freedom that comes from knowing God.
Knowing God has helped me handle stress because He has given me the power to face whatever comes my way. He has given me the security of being ultimately satisfied. The void in my life is filled by Him alone — not success, or money, or praise for a job well done.
Jesus has given me a larger capacity to carry stress and helped me to be a more effective leader and businessman, as well as husband and father, because eternally I know where I am going. The things I used to spend my time stressing about seem so small in light of eternity. My life here is only temporary because I know I will be in heaven one day. Knowing and accepting this truth has allowed me to be a conqueror, for I am never threatened by any obstacles in life. Whether it is stress, money or any other curve ball thrown my way I know what really matters.
You can have the security and hope that comes from knowing God. You receive Christ right now by faith through prayer. Praying is simply talking to God. God knows your heart and is not so concerned with your words as He is with the attitude of your heart. Here's a suggested prayer:
Lord Jesus, I want to know you personally. Thank you for dying on the cross for my sins. I open the door of my life to you and ask you to come in as my Savior and Lord. Take control of my life. Thank you for forgiving my sins and giving me eternal life. Make me the kind of person you want me to be.
Does this prayer express the desire of your heart? You can pray it right now, and Jesus Christ will come into your life, just as He promised.