I Wanted to Belong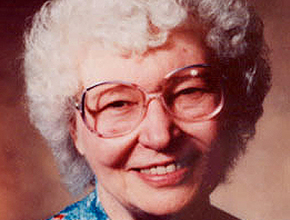 How close I came to making a total wreck of my life I'll probably never know.
When I went to work for the U.S. Government, I met Al Larson at the USO. Within six months we were married and on our way to a naval base in California. I was 18. Although I had been raised to be "religious," my husband had no such training. He was a good man, but he would scoff and say that the Bible is nothing but fairy tales or that I had only learned one viewpoint. I had left my parents and my home 3,500 miles behind. At the naval base Al and I met couples from all over the U.S. They seemed smart, worldly and sophisticated. I learned quickly.
For a while I continued attending church. But after our daughter came along, I stopped going. We returned to the East Coast when Al left the Navy. After a while we started making and selling jewelry. One day an acquaintance said, "'Bring your jewelry to my card club tomorrow night and show it to the girls. Can you play poker?"
"Sure," I laughed, "my brother-in-law taught me how. I'll come and win the pots!"
"You're kidding," she replied.
But I wasn't. And even though I lived up to my promise of winning that night, the women liked me and invited me to come to their next meeting.
Soon I was adopted into what I thought was an exclusive and sophisticated club. I was flattered. I've come a long way from the little country bumpkin I used to be, I thought. We drank and gambled until two in the morning, told off-colored stories, and visited bars on the way home from club meetings. As time went on I became better acquainted with my new friends. "I just had my third abortion last week," Diana announced casually one evening. "This time it was because my husband snuck in to see me when his girlfriend was out of town. The other two times it was because of my boyfriend." My blood ran cold.
"Why don't you get a divorce and marry your boyfriend?" I asked.
"Oh, my boyfriend wouldn't marry a divorced women," she replied. "Our religion doesn't believe in divorce. And anyway, he's married, too."
I learned later on that four of the girls were using the club as a blind to meet their boyfriends. They were all married. Fooling around didn't seem to bother them at all at least not until two of them got pregnant by their lovers.
My husband decided to go to business school. In order to supplement our income I went to work in an office. Another young woman started work a month later, and she became my coffee-break partner. Her name was Lillian. I noticed a difference when I started going to the lounge with her. Before, there had been all kinds of dirty jokes being told. Now when we came in that sort of talk stopped abruptly. I could see that my co-workers had a profound respect for Lillian. From her conversation and manner of living, we all knew that she was truly dedicated to God.
With my admiration for Lillian came a growing disgust for myself and my friends who casually did away with babies, got drunk regularly, became pregnant by lovers. I started contrasting our lives with Lillian's. What useless, purposeless, self-centered lives we had! I took a good look at myself, and I didn't like what I saw. I realized that I wanted to be like Lillian.
Someone left a leaflet on my desk that told about Christ and His love for me and how He had died on the cross for my sins. My memory took me back to that little country church where we used to quote, "For God so loved the world that he gave his only begotten Son, that whosoever believeth in him should not perish, but have everlasting life" (John 3:16). Tears of repentance slid down my cheeks, and I cried in my heart, "Oh, Lord, restore my childhood faith in Christ and the Bible!" At coffee break, I told Lillian what had happened in my heart that morning. "Please pray for me," I said. "And pray for my husband, pray that he will come to believe in Christ as his Savior, too." Her eyes glowing, she promised to pray for us both.
"The Lord will show you how to tell your husband what Jesus Christ means to you now."
The next night was club night. I went, but without enthusiasm. When I got there the hostess was excited. "You should see the pictures I have to show you," she exclaimed. I glanced at the pictures out of curiosity and was revolted by the pornography. I didn't enjoy the poker playing much that night, even though I won as usual. I must have been a real killjoy — I didn't even laugh at the dirty jokes. I was a new person. That was the last poker club meeting I attended.
I began praying for my husband and turning on religious radio and television programs. He began listening and with me. When one program offered a free Bible course and he sent for it. As he worked through the Bible course, Al realized that Christ died for his sins. He bowed his head one night while doing a lesson and asked Christ to be his Savior. I praise the Lord for sending Lillian my way. Because of her witness, my life, and the life of my family has been changed forever.
Take a look at your life.  How would you describe it? Contented? Rushed? Exciting? Stressful? Moving forward? Holding back? For many of us it's all of the above at times.  There are things we dream of doing one day, there are things we wish we could forget.  In the Bible, it says that Jesus came to make all things new.  What would your life look like if you could start over with a clean slate?
Living with hope

If you are looking for peace, there is a way to balance your life. No one can be perfect, or have a perfect life. But every one of us has the opportunity to experience perfect grace through a personal relationship with God through His Son, Jesus Christ.
You can receive Christ right now by faith through prayer. Praying is simply talking to God. God knows your heart and is not so concerned with your words as He is with the attitude of your heart. Here's a suggested prayer:
Lord Jesus, I want to know you personally. Thank you for dying on the cross for my sins. I open the door of my life to you and ask you to come in as my Savior and Lord. Take control of my life. Thank you for forgiving my sins and giving me eternal life. Make me the kind of person you want me to be.
Does this prayer express the desire of your heart? You can pray it right now, and Jesus Christ will come into your life, just as He promised.
Is this the life for you?
If you invited Christ into your life, thank God often that He is in your life, that He will never leave you and that you have eternal life. As you learn more about your relationship with God, and how much He loves you, you'll experience life to the fullest.