This Is The Life!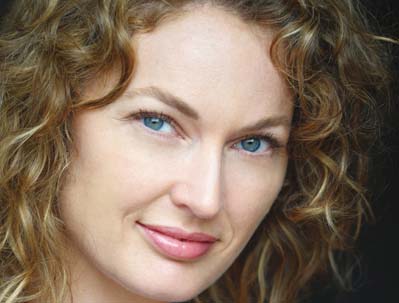 As a child, I had no views on God at all because my parents didn't teach us about Him. I cannot recall having a conversation with either one of them about any spiritual matters before they died. Most of my memories of my parents include my dad and his drinking problem. Because he was an alcoholic, my mother wanted to divorce him. She gave him many chances, but he wouldn't stop drinking. When the divorce was finalizing, my dad couldn't handle it, and took my mother's life and his own.
There were a lot of buried hurts and unresolved issues in my heart and mind about the murder. I was always angry with God and often asked "why, why, why?" Why did He allow this to happen to me and my sisters? It's like walking around with a question that you want answered so badly, but you're too afraid to ask your family and too afraid of the answer.
The road to discovery
My three sisters and I ended up living with our grandparents from our mother's side. I spent almost every weekend with my other grandparents who were the only Christian influence I had as a child. It was in their home, at the age of eight, that I accepted Christ into my life. My grandmother, whom I dearly loved, would always affirm me and say, "Wendy, you will do awesome things for God!" Though it made me feel so good to hear, it took a long time to believe. True life change only happened for me at the age of 22.
My middle sister, Karen, was into the modeling business. I moved in with her when I was 12 and she was 19, and would tag along while she took modeling classes. I was "discovered" one afternoon as I was waiting outside on the curb for my sister.
Though modeling wasn't a dream of mine, it eventually became one. When I was offered an opportunity to go to Paris at 17, that was inspiration enough for me! I fell in love with travelling – I loved to experience other cultures and places. Besides, what a better life more money could offer! I was driven by the goal to make enough money so that my sisters and I could live well.
Stop #1: Europe
My model friend Shelly and I packed enough for a three-month stay and shared a room in a hotel room that was the size of a postage stamp. But we weren't complaining – it was a blast! We mostly met with clients all over the city. We were handed a subway map by our English-speaking French agent, and was expected to learn how to get around on our own.
I started experimenting more with smoking cigarettes, pot, ecstacy and drinking in Europe. Where we were, there was no age limit to drinking. So alcohol became my drug of choice – all in the name of fun and having a good time. Drinking took away my fear of being shy or anxious. I could keep my cool and still feel on top of the world, and I didn't really look beyond the fun of it until I started experiencing consequences. I began going to appointments hungover and stoned, but was always able to keep it under control enough to still do my job.
My reasoning was that if we went out on Friday night, I'd be totally recovered by Monday in time for work. The problem was I started suffering anxiety attacks and became depressed. Eventually I went home to Texas recover. But the anxiety attacks didn't stop – the side effects of drug and alcohol abuse were catching up with me. So I quit the substances abuse and went on with life.
As much as I tried, I had a hard time relating to old friends that I hung out with before. Here I was 18, just got back from Europe with a lot of modeling experience, and they were graduating high school. I started hanging out with an older crowd and going to bars, where I started up my drinking career again.
Stop #2: L.A.


An agent in L.A. was interested in me going there to see clients, so I did just that. I began to get bookings right away, and was flying back and forth from Dallas, L.A. and Houston. I thought it would be a good career choice to move to California, so I packed all I had into a U-haul and drove there. The wild adventure started again. I stayed in California for over a year, going to celebrity parties in Hollywood. I thought to myself, "This is the life!" I continued to go to celebrity parties, and didn't drink quite as much, because this time, I was getting my high off of being around famous people. You see, I always found something to fill the big hole in my life.
Stop #3: New York

The following year on my way home from Milan to Texas for the holidays, I had a long layover in New York. I visited the agency where my former booker from Texas now worked. They asked me to stay for a while, visit clients, and then offered me a contract on the spot! "Oh boy, this is big time," I thought. "I cannot fail." Can you believe I ended up staying in New York for three years? I was doing very well – getting more bookings than I ever had, working for top magazines.
I found a new boyfriend whom I fell madly in love with. We moved in together immediately. We shared the same passionate dreams of being successful. I didn't drink quite as much this time around because I found a new addiction – a relationship. That brought me my fun. I didn't want to mess up my career either. So I got more serious. I knew that if I could make it in New York, in no time I'd go from being a working model to a supermodel. I was headed in that direction. And I was busy.
Going on many castings all day, my feet had blisters, and I would get dizzy from not having time to eat that day. I'd shove a bagel and a coffee down my throat to regain composure. Besides, not eating a lot kept me from getting "puffy", as my agents warned me of. My portfolio was at it's best. It was stocked full of editorial tears from top fashion publications. I did my first national advertisement when I was 20, which paid more for one day than I usually made in six months! There was nothing stopping me now! I thought, "This is it."
You know what? That was it. It was hard, tiring work, and I had to deal with people treating me like an object instead of a person. I fought to have some sort of respect, and eventually became depressed and cried a lot. I had a hard time getting out of bed. The perfect life was becoming a living hell. That's when my boyfriend told me to quit. "Quit?!" I said, "Quit and do what?" Quitting was not in my vocabulary, and modeling was all I knew. I couldn't imagine throwing the cards down after years of building up to this point.
When my boyfriend and I moved in to our new place, he told me he was in love with his ex-girlfriend. And although I thought it couldn't get any worse, it did. I became suicidal. I started on a self-destructive path. Smoking two packs a day, drinking to kill the pain of a break-up, and being with men that I didn't care about, life was becoming unbearable. I lost hope, and I lost self-respect.
New route: the road to recovery
I didn't have a whole lot going for me so I moved back home to Texas, where I was barely getting by, and didn't really care. That's when a co-worker did a really good job of talking me into coming for an AA meeting – I was convinced I was going to check it out for someone else!
From that first AA meeting I went to another, and then another, and so on. At first I fought it thinking, "I'm not a bum on the street, I can't be an alcoholic!" But I realized that the stories the people in there were telling sounded a lot like mine. Actually most people who are alcoholics are people who hold jobs, and don't show any obvious signs. Alcoholism, along with other substance addictions are progressive. There does come a point of no return though, and I didn't want to go there. Losing my parents over addiction was enough for me.
I finally woke up after sitting in enough meetings. I didn't share a whole lot there, just listened mostly. Listening was what I needed to do. I decided this program was for me and stayed. I didn't care if I had decided if I was a real alcoholic or not, the steps were working and my life was getting better! Before I knew it I had people cheering me on for thirty, sixty, and ninety days of sobriety.
I realized that my addiction was but a symptom of a deeper problem and I had to stop covering it up with alcohol and relationships. So one step at a time, I found tools for living. Not just on how to stay sober, but real life stuff. I became very serious about my sobriety, and even quit smoking within the next two months.
On May 23rd 1999 – once all of the chemicals were out of my system – I could really deal with God. It was Father's Day, and I went to church with the co-worker who initially invited me to AA. In his sermon, the pastor explained that those of us who had poor examples of earthly fathers often viewed God, our Heavenly Father, in the same way. It felt like those words were spoken just for me! I was relieved to know the truth that the God I accepted into my heart at the age of eight in my grandparents' living room, was a loving God who wanted to know me intimately.
Though it also brought up a lot of unanswered questions. "Why did God allow my parents' accident to happen to me and my sisters?" I often asked in anger. Today I realize that we are all given choices – we can decide to do the right or wrong thing. My father chose his own way, instead of God's. So I was determined to choose the right way – Christ's way.
I tried it all. I sought beauty, relationships, fame and feeling good to fill the hole inside of me. I thought these things would fulfill me, especially because the world clearly says they will. Ironically, they only left me empty and always wanting more. But I was just a hurting individual desperately wanting to be loved and accepted. It was only when I came to the end of myself that God made it very clear that He was the answer to my lifelong search for love, acceptance, true purpose, and hope. All the magazine covers, money and fame in the world cannot replace the level of satisfaction and significance Jesus Christ has given me since I invited Him back into the driver's seat of my life – as my Lord and Savior.
Today, nothing can take away the personal relationship I have with my Creator, my Father, and my best Friend. Through the gratitude of all that He's given me, I am giving my life back by serving Him.
Take a look at your life. How would you describe it? Contented? Rushed? Exciting? Stressful? Moving forward? Holding back? For many of us it's all of the above at times. There are things we dream of doing one day, there are things we wish we could forget. In the Bible, it says that Jesus came to make all things new. What would your life look like if you could start over with a clean slate?
Living with hope
If you are looking for peace, there is a way to balance your life. No one can be perfect, or have a perfect life. But every one of us has the opportunity to experience perfect grace through a personal relationship with God through His Son, Jesus Christ.
You can receive Christ right now by faith through prayer. Praying is simply talking to God. God knows your heart and is not so concerned with your words as He is with the attitude of your heart. Here's a suggested prayer:
Lord Jesus, I want to know you personally. Thank you for dying on the cross for my sins. I open the door of my life to you and ask you to come in as my Savior and Lord. Take control of my life. Thank you for forgiving my sins and giving me eternal life. Make me the kind of person you want me to be.
Does this prayer express the desire of your heart? You can pray it right now, and Jesus Christ will come into your life, just as He promised.
Is this the life for you?
If you invited Christ into your life, thank God often that He is in your life, that He will never leave you and that you have eternal life. As you learn more about your relationship with God, and how much He loves you, you'll experience life to the fullest.
If you prayed this prayer, we would love to hear about it!

Original story by Models for Christ. Used with permission.