Why Do We Pray?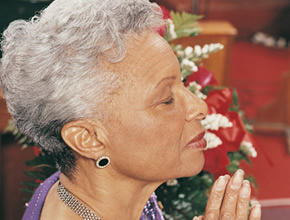 It has long been documented that strong faith affects our physical bodies. There are proven health benefits of prayer. It is believed that even just occasional private prayer and Scripture meditation help people live healthier and longer lives. The person who prays has an outlet for stress and anxiety. Blood pressure can improve. Recovery after surgery is shown to significantly improve in those who find comfort in religious faith. Hope and peace are more prevalent in pressing times when one has a strong religious commitment. Yes, prayer definitely brings with it a physiological and physical benefit.
Is prayer just a safety net?
Is that all? Is prayer simply a crutch that helps stabilize our minds and bodies? It's true that focusing on someone or something outside of ourselves helps bring the prospect of hope when we feel inadequate. That exercise alone will bring with it some measure of tranquility. This may be why prayers offered to angels and saints and objects of many descriptions are popular. There is some comfort simply in having someone to talk to, someone to appeal to or someone to blame.
But prayer is so much more than a comforting exercise. Praying to God is talking to the creator of your very being. It is connecting with the God of the universe. You are invited to pray. God himself invites you to bring your burdens, your cares and your needs to him. He even invites you to come boldly in order to find mercy and grace to help in your times of need. He designed you to be in communication with Him.
Invited to pray
God cares about each one of us as individuals. The Bible tells us that he knows the number of hairs we each have on our head. He knows every one who has ever wandered far from Him. You may feel sometimes like no one really knows who you are. God knows. He waits to hear your voice. You can pray because you are invited!
The prayer offered in faith, believing God hears and will answer, is prayer that brings power into our lives. Without faith nothing happens beyond the mere immediate comfort of prayer. Repetitious words are empty without faith.
Believing God cares and is waiting to hear from you is the first step toward powerful prayer. God desires to heal the broken places in our lives. He tells us He will bring beauty out of the ashes we have made. He will bring joy where grieving has lived in our hearts. We pray because prayer is powerful and it moves God's heart.
God is waiting to connect with each one of us. Our natural selfishness and our willful and stubborn rebellion has created a dis-connect with God. He wants to connect with us and work powerfully in our hearts and lives through prayer.
Connecting to God
God made a special way for us to connect with Him. He sent Jesus to live on this earth to experience what we experience. Jesus kept His relationship with God unbroken. He never let selfish, willful or stubborn rebellion take over His heart. He willingly went to the cross to die for something He was not guilty of. God looked on His death as the death of all mankind, and He exerted His mighty power and brought Jesus back to life again! The bridge was made for us to connect with God through Jesus.
Many stories are told of those in crisis moments crying out to God and God answering those desperate pleas. For some, it is the beginning of connecting with God, for others it is an encounter forgotten as soon as the crisis is past. But whether it changes our lives or is forgotten, the power of prayer is very real.
As your prayer connects you to God, your response to Him can open the door for Him to be at work in your heart and life. Your prayer can be your invitation to God to be active in your life. We pray to invite God to work in us and in our circumstances.
The prayer to connect with God is the most important prayer you will ever pray. It is the prayer that will begin your relationship with Him. You were created to be connected to God. It's where you will find purpose and new meaning to your life.
Why do we pray?
We are invited to by God Himself.
There is power there.
It moves the heart of God.
It connects us with God through Jesus.
To invite God to be at work in our lives.
Prayer was designed by God to draw us to Himself. Why not pray the most important prayer of your life? You have nothing to lose and so very much to gain.
Dear God,
I've never prayed much. I've never been sure You were really there. Today I want to connect with You. I believe that You sent Jesus to die on the cross. I believe You brought Him back to life again. Thank you that Jesus provided a bridge for me to connect with You. I ask that You would forgive my willful, stubborn ways. Please help me to break free of the wayward life I chose and to follow in Your ways. Help me to grow in my understanding of You. Please lead me in news ways, God. Teach me to pray as I follow You with my whole heart. I pray this prayer in the name of Jesus who died in my place, amen.
Keep your connection open to God by keeping your heart open to Him. Ask for His help daily. Ask Him to make his Word, the Bible, come alive to feed your spirit. This is the first step on your spiritual journey. It will transform your life!
May prayer become a way of life for you today!