My use of porn is ruining my marriage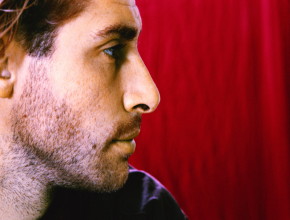 Over the last two years there were a couple of incidents where I sought out pornography. Although this hasn't happened too much, I believe it is more than mere curiosity. This has completely shattered my marriage in terms of trust and honesty, and I'm having a real hard time answering my wife's question: why? If I cannot figure this thing out, I will definitely lose my beautiful wife and my loving family forever. Any suggestions would be greatly appreciated. My wife and I recently separated and are attempting to work things out. Our communication has never been better and I feel closer to her than I have in the six years I've known her. We are trying to take things slow. I want to be a great father and husband and I'm willing to do whatever it takes.
Advice: I was where you are right now, and I am still only one click of the mouse away from returning to the pool of filth, just like a person who is an alcoholic is only one drink away from falling into that state of drunkenness.
You are NOT weird. You are believing lies that you are the only one that has this problem and you are lower than low in the eyes of God. This is not true. There are literally tens of thousands of men, and yes, women too, that fall into this trap. Everyone, from pastors to teachers to you and I, fall prey to this horrible addiction. And it must be big because the porn industry is a multi-billion dollar internet industry. What does that tell you?
Related: Read Jeff's story about his struggle with porn.
You have to understand that there is a scientific aspect to this addiction as well. The brain gives off a very powerful substance when aroused by these images, producing a high, that for many addicts, is the driving force behind their dependency on porn. I know it was for me. I needed that "feeling" of being high. It was exciting! It was wonderful. It was my own little world of self-satisfaction.
Do you know Christ? Are you a believer? I ask these very personal questions because the strength to overcome this battle is leaning on the strength of Christ to help you. At least it was for me. I tried and tried again and again to stop. I made vows to myself, my wife, my pastor and God that I would stop. But my flesh cried out for more and I would return to the filth once again only to be beaten down by the guilt and shame. It was a frustrating cycle.
It wasn't easy. You need to come to the place of complete surrender. You need to get support that knows the anguish you are feeling. There are a couple of online courses that helped me very much. One is called, Setting Captives Free. This is a 60-day course that takes you through to a way of escape. The other is called Covenant Eyes. This is an accountability site that monitors every key stroke that you make on your computer and sends a report to a person who has agreed to keep you honest.
If you really want to get away from this, another way is to get rid of your computer until you are free from this affliction. Yup, that's right. Pull the plug. It is called "radical amputation". You then can use the computers in a library or other "public" places to do your online course. Stay away from those things and places that tempt you. Even things as subtle as the grocery checkout lines and all the magazines on the rack can cause your mind to wander back into that place of "needing" that porn fix.
I lied, deceived, and made excuses for my actions as you are doing. Fortunately, my wife, when I confessed it to her, forgave me and offered her support. If your wife could understand what you are going through, and if you depend on her for support, that would be half the battle. It sounds like she is willing to help and talk it out. Don't despair. Don't give up! I know you feel like you are in a deep pit and can't climb out and you are sinking deeper and deeper. I know you are not viewing this filth daily, at least that is what you have stated, but it is a harsh master and if you do not get rid of the desire to keep looking, you will become a slave to it.
If you are willing to do whatever it takes, and I know you said that, then you can overcome this habit and set yourself free.
Sincerely,
A MenTodayOnline mentor
Take the next step:
Do you need someone to talk to about your struggle with porn?
Why Can't I Look at Porn?
Is Porn Destructive to a Marriage?