Pressure Fuels Growth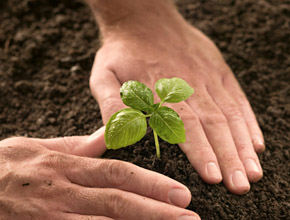 Adversity for bean sprouts
Do you know the reason why farmers can always grow better bean sprouts than you can?  Your homegrown bean sprouts are dry and tiny while the farmers are big and juicy.  A story once published in the Chinese newspapers has this insight.  The homegrown sprouts are left to grow freely, while the farmers placed glass or slides on top of their seeds.  When the sprouts are ready to pop out of the seed casings the first thing they have to overcome is the added pressure from the glass or slides.  They must work to strengthen themselves before overcoming this obstacle.  Whenever you are eating sprouts that are large and juicy, remember to pay some respect to them as they have passed the "pressured" test by the farmers.
"Born in adversity, die in happiness and peace"
The same principle applies to transporting live fish.  Traditionally, a high percentage of fish do not survive transportation by air.  Experts believe the reason for fishes' high fatality rate during flights is actually calmness.  That's right, when the flight has reached cruising altitude, fishes can easily be lulled asleep and die from the peaceful feeling of the smooth ride.
Now transporters keep the fish alert by placing one of their enemies like a crab in the tank with them.  You may be skeptical about this.  But the truth is, fishes will stay alert throughout the flight because their focus is on their enemy.  They will work on strategies to avoid being attacked by the crab.  Research shows that this technique reduces the fatality rate of the fish from 40% down to only 5%.   The fish are at more risk peace rather than their enemy.  In fact, "Born in adversity, die in happiness and peace" is a famous phrase from our fine Chinese ancestors long ago.
Female professionals face more pressure than their male counterparts
According to a research study on pressures in the workplace in China, female professionals face similar if not more pressures than their male counterparts.  The study shows that fatigue is more apparent in females.  Although pressures from the workplace are probably alike for both genders, females face added pressure from home.  When dealing with pressure, females tend to feel lost, get tense and impatient, develop anxiety and have problems controlling their temper.  Compared to their male counterparts, they are more likely to "talk about their problems", "try forgetting the whole thing", or "give self more encouragement" to relieve the pressure.  On the other hand, men will attempt to evaluate and solve the problems themselves when they face pressure.  Before the problems are solved, they will try relieving the pressure by engaging in other activities.
Pressure is a fact of life
Life without pressure only exists in dreams.  In our lifetime, we go to school when we're just young kids through the teenage years, then start a career, get married and then start having kids.  Pressure exists in each step of the way.  Without pressure, it is difficult for us to grow.  Nevertheless, lack of knowledge of how to deal with pressure can also take us down.  Consequently, we all should learn how to handle pressure.
1.  Step up and face it: Pressure can work against you, but it can also work for you.  It all depends on how you deal with it.  Whenever you are facing pressure, the wise thing to do is to step up and meet the challenge.
2.  Delegation relieves pressure: Our Lord once said:  Therefore do not worry about tomorrow, for tomorrow will worry about itself. Each day has enough trouble of its own.
3.  Find other activities to take your mind off of the pressure: Participate in sports, listen to music, read or pray to relieve pressure.  If you only have a little bit of time, try taking a 10 minute walk outside or even a five minute walk through your building.  Walk slowly and try to breathe deeply.
4.  Be thankful for having pressure: In Philippians 4:6-7 it says, "Do not be anxious about anything, but in everything, by prayer and petition, with thanksgiving, present your requests to God. And the peace of God, which transcends all understanding, will guard your hearts and your minds in Christ Jesus."  We're not supposed   be anxious about anything?  That's easier said than done.  Certainly, we don't control in many things in life, such as illness, natural disasters, or accidents.  But we should never assume that God is helpless and cannot give us a helping hand.  As long as you deal with it with faith, along with the powers from our almighty God, you will be able to overcome it all.
God is someone who you can always count on in dealing with pressure.
My dear friends, in your lifelong journey, do you sometimes feel the pressures you face are just too much to handle?  Well, maybe you have no choice in avoiding them, but you do have a choice in how to handle them.  God is someone who you can always count on.  He loves you and will give you wisdom and strength.  I can confidently say this because I personally experienced God's helping hand many times.
If you haven't invited God to come into your life, maybe this is the time to send an invitation.  God is looking forward to establishing a relationship with you.  He wants to help and guide you in your journey.  He is waiting for you to make this decision.  Now is a great time to invite Him.  Praying is the same as talking to God, and you can start a relationship with him by praying this prayer:
Lord, I need you now more than ever. I want your peace of mind. In the midst of my broken heart and my pain, I turn to you. Jesus, I ask you to forgive my sins and to give me your peace and comfort. I open the door of my life and put my trust in you.
If you sincerely expressed that prayer to God, you can know that you have a personal relationship with Him. He will be your comfort in these troubled times. God promises us "peace that passes understanding" in other words peace in a world that doesn't make sense. You can know peace even while the world is in turmoil. God does not change. Ever.