What happens to the soul after suicide?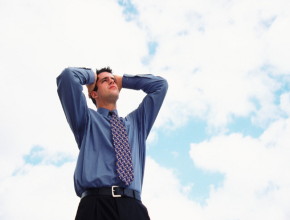 You are not alone in your struggle with suicidal thoughts.
What happens to one's soul/spirit after suicide?I recently had a close friend commit suicide and I am so worried that she will still not be at peace with herself. She had an anxiety disorder due to a troubled childhood and although she loved life, her friends, and her family, she just could not be independent as she could not relax.
We struggled together with this for so long. She was a creative and loving individual who had traveled much and lived away from us for a few years, so she had known independence. She feared for her sanity – she explained to me that she wanted to die because she actually did love herself and the constant thoughts going through her head would eventually turn into madness. I dearly love her and couldn't bear to think that she will eternally go through this struggle. I am searching within myself to find meaning in my loss.
Advice: It's obvious that you were and are a very close and loving friend. You have suffered with your friend right up to the end and beyond. You cared about her welfare, her emotional and spiritual state. But, now this tragedy has occurred and no matter what you or anyone tried to do – she has passed into eternity.
First of all, I want to tell you that your friend's suicide and death was not anyone's fault. Her suicide was the result of her choice and her psychological instability. Don't let false guilt and self-blame take over. You and others tried to help. But, this woman is the one who made the choice despite all your pleadings and intervention.
Secondly, you need to grieve your friend's death. You will go through several stages of loss: shock and denial, protest and dealing with the reality of her death, anger, confusion, depression and finally, reorganization. It's normal to grieve. It's important to care for yourself. You may need counseling. Go to your pastor for prayer and support. Read your Bible, especially the Psalms and the gospel of John. Jesus talks about God's love for you and for the world, His plan to give you eternal life (John 3:16) and abundant life (John 10:10). Scripture will bring you comfort and hope for the future – hope for eternity.
The Bible does have stories about people who committed suicide but, it doesn't talk about where their souls went – to heaven or to hell. But, Jesus promised: "I am the resurrection and the life – he who believes in me though he may die – yet shall he live." John 11:25 If your friend trusted in Christ as her Lord and Savior – she is in heaven today. How do I know? Because Jesus said "I am the way, the truth and the life. No man comes to the Father but by me." John 14:6
Jesus claimed to be God, to speak the truth and the words of God. He died on the cross for the sins of the whole world and then, rose from the dead on the their day. Over 500 witnesses saw the resurrected Christ!
Because of these facts – you can have great hope for the future! You can trust that Christ loved your friend greatly and will judge her justly.
Suicide is a devastating experience to those who loved its victim. Suicide happens because the person is so depressed and has not received the appropriate treatment – mentally, emotionally, physically and spiritually.
But, suicide, though a sin, can be forgiven – at the foot of the cross where all sin is wiped away when one believes in the Savior who sacrificed Himself to redeem the world.
You will never feel comfortable with what happened. A life was lost. But, you can trust that God can bring good out of this circumstance. God can become more personal to you in this time of suffering. God can give you courage and make you a person of character with strong values. God can demonstrate His love and comfort to you during your pain. God can give you more wisdom to help others who have suffered.
This world is a broken place – a place that is not our home. We are just passing through. Your friend could not stand the emotional and mental turmoil she experienced. But, you can. You and God can go on.
She ended her stay on earth and God allowed her to do it. He did not cause her to do it because He is not the author of evil. He does allow people to make choices which are against His will. But, you can find hope and courage to discover God's will for your earthly life. You can leave a legacy that will give others hope for tomorrow and for eternity.
If you find you are depressed and anxious because of this – see a counselor. You can find a counselor. God bless you as you discover what He has in store for you even in the midst of this loss.
Read Scott's story of playing Russian Roulette.
Take a look at your life. How would you describe it? Contented? Rushed? Exciting? Stressful? Moving forward? Holding back? For many of us it's all of the above at times. There are things we dream of doing one day, there are things we wish we could forget. In the Bible, it says that Jesus came to make all things new.
What would your life look like if you could start over with a clean slate?

Living with hope

If you are looking for peace, there is a way to balance your life. No one can be perfect, or have a perfect life. But every one of us has the opportunity to experience perfect grace through a personal relationship with God through His Son, Jesus Christ.
You can receive Christ right now by faith through prayer. Praying is simply talking to God. God knows your heart and is not so concerned with your words as He is with the attitude of your heart. Here's a suggested prayer:
Lord Jesus, I want to know you personally. Thank you for dying on the cross for my sins. I open the door of my life to you and ask you to come in as my Savior and Lord. Take control of my life. Thank you for forgiving my sins and giving me eternal life. Make me the kind of person you want me to be.
Does this prayer express the desire of your heart? You can pray it right now, and Jesus Christ will come into your life, just as He promised.
Is this the life for you?
If you invited Christ into your life, thank God often that He is in your life, that He will never leave you and that you have eternal life. As you learn more about your relationship with God, and how much He loves you, you'll experience life to the fullest.

Read more about faith
Read more about depression, anxiety, and fear
Read about grieving
Read more about suicide
Lynette Hoy, NCC, LCPC
© copyright 2003 Lynette Hoy, NCC, LCPC