Breaking with Tradition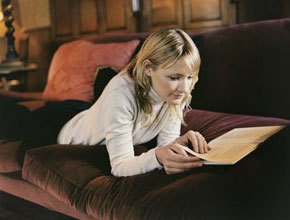 Nothing can ever separate us from his love. Death…life…angels…demons can't. Our fears for today, our worries for tomorrow, and even the powers of hell can't keep God's love away (Romans 8:38).
Christmas is found in the heart, not under a tree. But when your heart is breaking and you are grieving, getting through this particular holiday can be rough. The season becomes more of a burden than a blessing. Wherever we turn, we see people trying to cram an old-fashioned, picture perfect holiday into their hectic schedule. The frenzy is contagious. Haunted by our own Christmas Past, we start to feel left out. Our friends and family wonder why we just can't get into it anymore.
No wonder holiday blues light up crisis hot lines across the country and colds abound. Days shorten. Expectations lengthen. Stress increases. Stores are crowded; airports, jammed. We lose sleep. Some of us overeat; others, overbuy. We spend time with people we would rather not be with and miss loved ones who are deceased. Our depression mounts — along with the dread of reading piles of glowing newsletters from friends announcing fabulous vacations, great promotions, and their kids' grade point averages. No longer do we feel comfortable turning to them when when we're down. After all, what happy family wants our sorrows? If our family was splintered in a divorce, we may harbor guilt and resentment as our children go to stay with their dad. We are angry that finances are low and there's no place to go.
If you add it all up, there isn't a better time to break with tradition. To stop searching for the right gift or that perfect tree. To stare through the mirage of holiday glitter and garlands. To look beyond our sense of helplessness and hopelessness, shame and failure. To see what really matters.
Too often it escapes our notice that the greatest sermon ever preached took place not in a brightly lit, ornately decorated, crowded cathedral, but in a plain farm field of a poor country beneath a dark sky in front of a few ordinary shepherds. Both the Good News and the best gift arrived at night. Jesus was born into a world much like our own. People were wrapped up in their own agendas, registering for the census, finding lodging, feeding donkeys and tending sheep. They were also divorcing their wives and burying their dead. There was discrimination, high taxes and political upheaval.
Our Savior never led a sheltered life. As far as we know, he never hung a Christmas stocking or unwrapped a toy. Outside of traveling to Egypt as an infant, Jesus never journeyed more than a hundred miles from his birthplace. He didn't party with the elite, but chose to dine with commoners. He died at 31, without decorating a Christmas tree or sending a card. What Jesus did do and still does is love people. He spoke with a divorcee, allowed a prostitute to wash his feet, and praised a poor widow who gave all she had.
Into our own dark December comes this undeserved and unbelievable love gift from the Father. You and I are accepted just as we are — moody or merry; rich or poor; married, widowed or divorced. Judy in Ontario, Canada, puts it this way: "God's gift of salvation was given to us before we were divorced, widowed, wounded, abandoned, rejected or homeless. This gift comes with an eternal, unchanging, non-negotiable, non-refundable guarantee."
As I read the closing words in her e-mail — Emmanuel, God is with us — I realized Judy lives moment to moment with this certainty. After serving beside her husband as a missionary in Africa for 13 years, she is now a single and working mom. Her husband of 17 years claimed he had made a mistake in marrying her and that he should not have to pay for that mistake for the rest of his life. Their divorce became final on December 21. At Christmas, Judy struggles along with the rest of us over what to do with that box of ornaments from the past. But she knows what really matters — Emmanuel. She discovered that not even an unwanted divorce can separate her from God's love.
As a believer in Christ Jesus, God has given You an amazing gift — His very life, breath and power lives in You in the person of the Holy Spirit.
We experience the Holy Spirit's constant help, guidance, comfort as we ask Him and we trust Him to keep on filling us. When we do, we overflow: "May the God of hope fill you with all joy and peace as you trust in him, so that you may overflow with hope by the power of the Holy Spirit" (Romans 15:13).
Why not pray this simple prayer right now and ask the Holy Spirit to fill you today?
Father, thank You for seeing me as a whole, wonderful woman, who is full of promise and potential, and for gifting me with an ability to bless the world as I live out the truth of what I have been through. Your love overwhelms me.

Thank You for the Holy Spirit, who lives inside me and desires to help me follow the best path for my life. Fill me up with Your Spirit!  Let Him have all of me! I want Your joy, peace, hope and power to flow into my life and through my life to others. In Jesus' name I pray, Amen.