Christmas Gift Giving Alternatives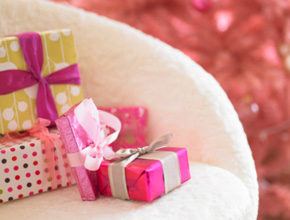 Have you ever stopped while pounding the pavement or walking the malls during the holiday season and asked yourself what is the point of this annual gift giving frenzy?
Sure, it's better to give than receive, and Christmas presents are an excellent way to share the love that God displayed to us so perfectly through the greatest gift of all – his Son, Jesus Christ.
However, did you ever get the feeling we've gone a little overboard, like perhaps we're being motivated more by a sense of false guilt and obligation put upon us by advertisers than true love of our fellow man?
After all, if we really want to share God's love with others, don't you think our time would be better spent thinking about what to buy the person who has nothing rather than racking our brains for what to buy the person who has everything?
If you've ever felt this way, perhaps you'd like to consider scaling back or even forgoing your gift giving this Christmas and putting what you would have spent on Christmas presents toward something of eternal value.
The following are a few suggestions for how this might be done:
1. Make a donation
Rather than buying gifts for your siblings or parents this year, why don't you all donate the same dollar amount to a charitable organization? You could do this on a local, national or international level. To give you an idea of what your family could accomplish, check out:
Global Aid Network (GAIN) – Sponsor a well in India, providing an entire community with the perpetually life-giving gift of water.
Operation Christmas Child and Operation Carelift are two other giving opportunities you might want to consider. Both initiatives provide much needed resources to underprivileged children and families around the world. They also allow you to get involved in packaging and processing the goods, not just sending money.
2. Volunteer your time
How about having a different sort of family Christmas dinner this year – at a soup kitchen? Spend your Christmas money on groceries for the local food bank or soup kitchen and then go down and help distribute food to people in need. The experience will give whole new meaning to the phrase "Guess who's coming to dinner?"
There are plenty of other creative ways to give of your time, such as visiting the elderly in nursing homes or spending time with other people who will likely be on their own during Christmas. Sing carols. Bring along Christmas baking. Do whatever you can think of to bring some holiday cheer into their lives.
3. Help someone in need
Do you know of anyone in your church that can't afford a Christmas tree? Why not buy one and secretly deliver it to them, complete with ornaments? Better yet, buy an artificial tree. That way your gift will last for years to come. Does the family have children? Then give them something to look forward to on Christmas morning! Toys, books, clothing, games – buy them the same things your own children would enjoy. In fact, why not get your children to help you with the shopping? In addition to gifts, you could also prepare a Christmas hamper, complete with all of your favorite holiday foods. Or, even better, invite them over to share in your family's holiday celebration.
What about Christmas Day with my family?
Doing any one of the activities mentioned above doesn't mean you have to go completely without presents. (A word to parents: Do not deprive your children of Christmas gifts unless they willingly agree to give them up for the sake of your family giving project.)
Get creative about how you give to each other this year:
Buy your presents from a second-hand store.
Assign everyone a spending limit of $10 or less and see what they can come up with.
Do a "white elephant" gift exchange rather than buying a present for every person in your family.
Whatever you decide to do, make this a year where your giving extends beyond your family and into the lives of those who can really use our help.
Related reading: The Gift of Forgiveness