Halloween Alternatives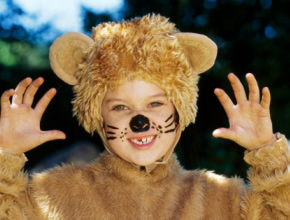 Many people these days choose to opt out of the traditional Halloween trick-or-treating for various reasons.
Whatever the concerns one may have regarding this event, there are alternatives in creatively making this day special. As Christians, it is certainly a time when one can "overcome evil with good" (Romans 12:21). 
Consider some of the following ideas for your family or grandchildren:
Witnessing from your home
Signs on your property
Make signs with a Christian message to stick in your lawn or on a door. The wording could be as follows:
"No Trick! God's Treat is Jesus"
"Let Jesus Fill the Hollow"
One could also carve a single letter in enough pumpkins to create a small phrase like "Jesus is Lord." Use Christmas lights to illumine this message.
Christian music
As children come to your door, have Christian music which appeals to them playing in the background.
Christian handouts
Purchase Halloween tracts to hand out. You can get them from a Christian bookstore or order them online. Candy can be taped to the leaflet. As an alternative to sweets, consider giving pencils, erasers, bookmarks, stickers and comic books that carry a Christian message. Any booklet explaining the way of salvation to children is another wonderful witnessing tool.
Party themes
Local church activities
Check local newspapers or Sunday bulletins if churches in the area are offering any alternatives like a Pumpkin Patch Party, Fall Festival or "Harvest Party. Sometimes asking only a nominal fee, these outreaches offer a safe setting for families to experience a carnival-type atmosphere. Decent, non-scary costumes are often the only stipulation. Also, consider getting involved to help a local church put on this event.
Hallelujah party
Put a twist on the word "Halloween" and call it a "Hallelujah Party."  Guests can come dressed as Bible characters and let others guess their identity. Play Bible games, sing and eat foods typical of Jesus' day.
Heroes of the faith party
Focus on people, who through the ages, have stood up for their faith and impacted the world for Christ. Dress appropriately for that era and the part of the world they came from.
Reformation Day party
On October 31, 1517, Martin Luther nailed his famous Ninety-Five Theses onto the door of the Wittenberg Church and lit the fire of the Reformation. Show a movie about this hero of the faith.
Fools for Christ party
Based on 1 Corinthians 4:10, "we are fools for Christ's sake," guests dress up in funny costumes which have nothing to do with witchcraft. Crazy activities are a must.
Pumpkin party
To create less mess, guests could come with scooped-out pumpkins. Carve Christian symbols or individual letters to create a joint Christian message like: Jesus is Lord. Painting the pumpkins with acrylic paints is another alternative. Foods using pumpkin would be appropriate.
Special outings
Light the night campaign
Walk door-to-door and simply hand out tracts that talk about Satan's tricks and God's best treat which is Jesus Christ. This can also be done as a church group.
Collect for an organization
Collect food for the local food bank or old eye glasses for the needy overseas. In order to assure people that this cause is legitimate, it may be wise to check with the organization beforehand and have proper identification tags issued.
Visit a nursing home
Dress up and bring something to share with these special folks. Calling ahead is a good idea.
Bowling
The local bowling alley may not be very busy on October 31st. Children could dress up and do crazy things like bowling backwards.
Discussion time
This could be a natural time to talk with children about the different kinds of invisible masks we wear and why we do that. Or talk about fears – real or imaginary. Discuss how these fears might be diminished or dispelled as one trusts Jesus.
The Bible admonishes us to "make the most of the time" in both Ephesians 5:15 and Colossians 4:5; therefore, let's make the most of every opportunity, turning each to the best advantage since none can be recalled if missed.
Hallelujah that there are alternatives to Halloween!
May the above-mentioned ideas inspire you to be creative in using this day to focus particular attention on Jesus Christ.