Parent-Care Crisis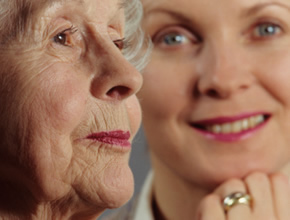 One night I had an unusual dream. "Lord," I asked, "what is this dream telling me?" The answer came into my mind: my father would die, my mother would run out under heavy dark clouds – and her neighbors would comfort her. The Lord gave me the reason for the prayer too: I was to be my parents' neighbor when they needed me; I was to buy a house in their neighborhood.
At the time I was living in a small rented bungalow with my eight-year-old daughter. I began praying that the Lord would give me the right house. After praying and waiting on the Lord for nine months, I got a terrific bargain on a house only a few doors up from my parents; and it was perfect for me!
Chauffeur-hood
Several years later my father was found to have an inoperable cancer. Mom didn't drive, but I was there for my parents all during that year before he died, making multiple trips to the doctors and the hospital during that time.
Since I was supporting my daughter and myself as a free-lance writer and working at home, I was able to do that – although it often took time I felt I needed to devote to my writing. My mother didn't drive and refused to get a driver's license. Thus I was elected to be Mom's chauffeur (as well as everything else) for the next 20 years.
Mom's downhill road
Mom needed to regularly visit her doctor, pharmacist, and optometrist – and then because of various ailments she developed, she needed to branch out to a chiropractor, neurologist, therapist, dermatologist et al.
I loved my mother dearly, so even though I had my writing career, my church service, my daughter, a house, a yard, and a car to take care of. I did whatever I could for her. Every night I went over to her house to play games with her and read her mail to her. One night she demanded I read her junk mail.
"Hey, Mom, I don't even read my own junk mail!" I exclaimed.
"All right," she said, "I'll have my neighbor read my mail then."
I was accustomed to having Mom force me to do her will. But like a flash, an idea came to me. "Okay, Mom," I agreed, "you do that." It worked! She had been bluffing. The third-class mail was discarded.
Don't go anywhere – or else!
Lori and I regularly went on camping trips during the summer, especially to our favorite state park an hour's drive away. Mom had been coming with us, but after a while she bowed out. Yet she knew where we were going, so she didn't fuss about it.
However, when Lori and I started going on vacation trips to Florida and other places, Mom became fearful. "Why do you have to go so far?" she asked. "What if your mother dies while you're gone?" Like many good mothers, Mom was good at laying guilt trips on me.
I realized she had come to the place, with all her ailments, that she was fearful now. Yes, she loved and trusted the Lord. She had never been fearful before. But now, assailed with her limitations, the "what ifs" tormented her. My heart went out to her but I didn't want to stop having some kind of life of my own. She had a telephone and caring neighbors who would gladly give her any help she needed.
Disability floors Mom
My mother finally got to the place where she could only get around in a wheelchair, and I checked with her mornings as well as visiting evenings. Meals on Wheels delivered a main meal a day to her home.
Mom could hardly see or hear and she couldn't smell. One day I went over and smelled gas – a pilot light had gone out! "Oh, Lord," I cried, "Mom shouldn't be living alone like this! What can I do?" Several days later I went over and discovered that she had fallen out of her wheelchair and had lain helpless on the floor for hours. Unable to pick her up by myself, I called a neighbor to help me.
Mom was taken to the hospital. The next day a social worker told me that I'd have to make arrangements with a nursing home for her care when she left the hospital. Her doctor assured me that I couldn't possibly care for Mom by myself.
Nursing home blues
I began visiting Mom three times a week at the nursing home. Since I was the organist at a church across town, I sometimes would stop there on my way to church. The visits were very painful, for Mom kept constantly reproaching me for not being a good daughter and taking her home.
One day it became so bad that as I went on my way to church I found myself crying and screaming to God! When I got there and went up to sit at the organ, I realized what a mess my face must be! "This is not right," I said to myself.  "And I just can't go off the deep end myself!
So after that I just went twice a week to visit Mom. It was still rough – but manageable. Several times Mom was rushed to the hospital for a blood clot. By now she was blind, deaf, incontinent, helpless, fearful, angry and totally miserable. "Oh, Father, please take poor Mom home!" I cried.
"Why do they now use extraordinary measures to keep people living in a state worse than death?"
Dementia
A number of old folks suffer from one of the four forms of dementia, which can be caused by small strokes (which Mom had) and certain medications. According to Dr. Clyde Narramore, there are five disorders connected to senile dementia: memory loss and poor judgment; marked impairment of memory and disorientation; incoherence; agitated by fears; and paranoia. ("Encyclopedia of Psychological Problems")
My mother suffered from the last two. She was not only paranoid, but delusionary; for some reason she had horrible delusions concerning her roommates.
So she couldn't possibly be friends with such "awful people." (Really, they were nice ladies.) So she was lonely – and she went through nine roommates!
Homegoing
Finally the Lord took my poor dear mother home to Heaven – and I rejoiced! For all her ills were gone and she was rejoicing with Dad, my brother and Jesus!