Gracious Hospitality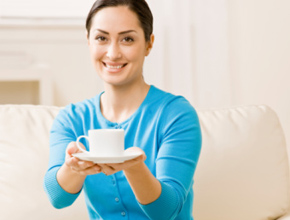 Do you welcome visitors into your home? Many issues hinder us from entertaining. You might think your house is too messy or too small. Perhaps you don't cook very well or couldn't compete with the birthday party that your neighbor threw for her daughter. Maybe you are just too busy. 1 Peter 4:9 says, "Offer hospitality to one another without grumbling." There is no clause before or after it that says "only if you feel totally competent".

Some of us cringe at the thought of having company over for dinner. But, God commands us to be hospitable in Romans 12:13 "Share with God's people who are in need. Practice hospitality." This specific passage refers to travelers who didn't have a plethora of hotels to choose from like today. They had to depend on others opening up their homes. Even in our culture of home security systems and closed garages, this is still relevant for us today. While you may or may not enjoy entertaining in your home, we need to learn to be hospitable.
So, what does hospitality look like?
Hospitality is simply welcoming others into our home. Dictionary.com defines it as "the friendly reception and treatment of guests or strangers… in a warm, friendly, generous way." Webster's adds "without reward." A gracious welcome is an amazing way of showing the love of Christ! It might just be dinner one evening, or your in-laws could be staying in the guest room for a whole month.
Do you enjoy your guests or work hard to please them?
Luke 10 tells the story of two sisters who are entertaining Jesus in their home. Martha is frustrated because she is so busy doing all the things that need to be done for the event and Mary is not helping. Instead, Mary is sitting at the feet of Jesus, enjoying time with Him. We can sway to one side so much that we forget the importance of the other.
Both tasks of the host are important. Obviously the preparations need to be done to eat, but being with your guests is just as significant. Balance your time so you can feel good about the tasks of entertaining, but also make sure you are able to enjoy your guests. I want to be transparent enough to show people the real me. I want to be vulnerable, to talk, to share about life and learn about God. And that involves spending time with people.

Spend time with your guests enjoying activities together. Don't spend the whole time in the kitchen hurrying about, cleaning up every last dish. Sit down with them and get to know them. However, if they are staying for an extended period, don't think you have to entertain them 24 hours a day. Give them ideas of things they can do in your home, in your neighborhood, in the city and in the state. Think of ways to help them enjoy their time in your home.
Are you creating an atmosphere for relationships to grow?
What kind of an atmosphere does your home provide? Fun for kids, a hangout for teens, or relaxing conversation with friends? Know your goal. I desire to offer spiritual hospitality. My goal is not just taking care of their physical needs of food and rest. I always asked God to bring people into our home so I could share His love.
I want it to be a safe, cozy and inviting place where people want to stay. I want my kids' friends to want to come over. I want families to enjoy spending time with us. I want every person who walks through our door to feel the love of God in our home and through our hospitality. I pray that God will continue to bless us as we have the pleasure to share His love with them.
We are reminded in 1 Thessalonians 5:11 to build relationships. "Therefore encourage one another and build each other up, just as in fact you are doing." So, who are you encouraging? Are you building relationships? We can be intimidated by the thought of inviting others to our home because of the expectations that we put on ourselves. Hospitality is about people. It is not a competition. Don't make entertaining about your house, your decorations, your food or anything else. Share God's love by opening your door today.