Learning to Take a Compliment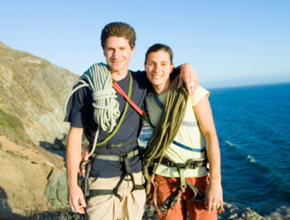 Last summer my husband and I embarked on a ninety-day, 7000 mile road-trip around the western United States. The trip was a dream come true, one that we had been planning for several years. Our itinerary revolved around our shared passions of camping, rock climbing and mountain biking, which filled the months with adventure, amazing scenery and accomplishment. It also filled our days with dirt, bugs, rodents and more dirt.
Forgive me if I particularly noticed the dirt. This might be offensive but to conserve costs, we showered about once a week. Of course we'd wash up in the water pump at the campground and use a generous amount of moist wipes. Even so, I would be pretty dirty after six days. And yet, my husband would tell me that I looked beautiful, even several days after our last shower.
I would usually respond with, "What, are you kidding? You can't really think that." I sure didn't feel beautiful, I felt repulsive.  If I felt so gross then I couldn't possible look anything but. Right?
Examining my thinking
I gradually came to understand that I needed to break that mental cycle. I was, perhaps subtly, accusing my husband of being a liar. At first, I dealt with that revelation by making a joke out of his complement. "Thanks honey. You must have to say that to remind yourself that underneath this grime is the cute woman you married."
That response still didn't go very far in demonstrating that I believed he was telling the truth. This was a difficult lesson for me to stomach. Of course I trusted my husband. He was my climbing partner, wasn't he? That meant I trusted him with my safety, even my life. Is there a greater trust than that?
It would have been easy to brush it off. After all, it's perfectly normal for a woman to feel down about her looks occasionally. But I felt convicted to break the habit. At the root of the problem, my insecurity created a barrier between us. That insecurity manifested itself as mistrust in multiple ways.
It wasn't only his compliments I doubted. It could be a grouchy tone to his voice or a frustrated sigh in response to a question. It doesn't matter that perhaps he could have responded more pleasantly—I need to acknowledge that as a temporary reaction and not make it representative of how he feels about me.
We have to take care not to internalize our partner's actions—to learn to trust intentions more than their behavior. That trust frees me from the worry and fear that creates conflict. I don't have to worry that he's lying. I don't have to fear that I'm not worth his compliments or his love.  I trust him.
The Bible says a lot about trust—about trusting God. He is the only one that can be trusted completely, being without sin. It doesn't command us to trust anyone else, in fact it warns against placing trust in people. Fortunately I trust God in many aspects surrounding our marriage.
I trust He had my best intentions in mind when he brought me and my husband together. I trust He is at work in my husband's life—continually shaping him into a man after His own heart. I know He will respond to my husband's prayers—for the grace to stay in God's will and keep his commands, like the one to love and cherish his wife. Trusting my husband is a representation of my trust in God. Only He can provide the supernatural peace that I need to be free from fear and self-doubt.
So now, even if I'm covered in dirt and sweat when my husband tells me I look beautiful, I do my best to respond with a smile and a sincere "thank you".