A Bruised Reed He Will Not Break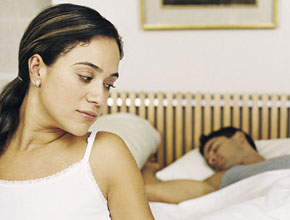 If you were sexually abused as a child, you're not alone. Read Maureen's story.
Donned in her favorite nightgown Kimberly* slips under the covers anticipating a good night's sleep. Patting her husband's shoulder she says, Goodnight honey… Tentatively Ron reaches out for Kimberly and nuzzles her cheek giving her a tender kiss. With a familiar sick sinking feeling in the pit of her stomach, Kimberly wriggles away from Ron, while feigning tiredness and a backache. Although it's been several weeks since they've made love, Kimberly can't seem to stop herself from rebuffing Ron's sexual advances.
But it wasn't always this way…
Kimberly married Ron in her early twenties. He was a solid, kindhearted guy and in the very beginning their sex life was wonderful and plentiful. Eventually though, Kimberly found herself becoming increasingly uninterested, and at times almost repulsed by sex with her husband. She began to have vivid memories of a time when a close family relative had sexually molested her when she was a child. She would do her best to block out the images, only to have them crop up again. Although the abuse had been a conscious memory all along, Kimberly's new marriage seemed to have pushed the memories to the forefront of her mind.
It was in the midst of this darkness and struggle that Kimberly and Ron gave their hearts to the Lord and began the journey that would define the rest of their lives. And while becoming a Christian brought tremendous changes into Kimberly's life, her feelings about lovemaking remained unchanged.
Kimberly cried out to God in prayer over the increasing darkness that she was experiencing, and with the Holy Spirit's guidance she began to take steps toward wholeness (we'll discuss those steps in a minute). Ultimately what Kimberly discovered was that the Lord desired to bring healing to her sexual relationship with Ron. And in the course of time she felt the burden of the dreadful memories lift and her revulsion to lovemaking abate. God brought freedom! Freedom to forgive, freedom to forget, and freedom to enjoy lovemaking the way the Lord intended.
The Ongoing Ramifications of Sexual Abuse
Childhood sexual abuse can scar a woman's mind and heart, making her unable to give herself fully to her husband. She may feel almost violated by him each time they make love; although her mind knows that her husband has every right to want intimacy from her, her heart tells her she's being violated. She may even think, I can't believe he wants this from me! Doesn't he know how this makes me feel?
Being molested as a child or young adult can set a woman up to feel out of control the rest of her life in the area of sex. The abused woman often misunderstands God's design for sexual intimacy, and will sometimes only acquiesce to physical unity out of a source of duty, or simply to keep the peace in her home. She has missed the unique beauty and physical thrills of lovemaking, and sees only the ugliness of being taken advantage of.
If I have just described you, my heart hurts that you experienced sexual abuse—but there is healing. True, lasting, deep healing. A healing so real that nothing can ever take it from you.
Steps to Wholeness
As with any work of God in our lives, we almost always play a part in the process. In Kimberly's case, as well as others like her, there were important steps she took to facilitate this complete healing.
Step 1: Run to The Healer
Kimberly's restoration process began with prayer. She cried out to God, asking Him to heal her sex life. While it's true that there are many positive actions a woman can take to help bring forth healing from the pain of childhood abuse, only God can bring forth complete and lasting restoration of a woman's sexuality. My pastor often teaches that God leaves the "big things for Himself." Pastor Eric says "The Lord reserves the right to do the 'big stuff' in our lives so that He receives the glory. As the Lord enters into our darkest situations and brings life, healing, and hope, we are drawn to Him and we glorify Him."
In Isaiah 42:3 we gain insight into God's heart for those who have been bruised and broken by unjust circumstances: A bruised reed he will not break, and a smoldering wick he will not snuff out. In faithfulness he will bring forth justice. One of the foremost ways in which God brings forth justice for the oppressed is by healing them. He simply brings freedom and wholeness to those who will ask Him for it. He is good… He is faithful… And His mercies never fail!
Step 2: Choose Forgiveness
Early on in her Christian walk Kimberly recognized that she must forgive the family member who had so devastated her by his actions during her childhood years. This decision was pivotal in her quest for wholeness—and one which ultimately opened the door to God's restoration in her marriage.
Forgiveness is foundational when it comes to receiving healing from the pain of sexual abuse. It's more then just a good idea—it's actually the gateway to freedom. In her book, Getting Over the Blues Leslie Vernick says:
God knows that sin destroys us. It is not the sin that is committed against us that wields the fatal blow. Rather, it is our own sinful reaction to the things that have happened to us. Unresolved anger often turns to depression, self-pity, bitterness, and resentment, and these things poison our body and our soul. A person finds healing through the process of forgiveness, both receiving forgiveness and extending forgiveness. That is why God is so insistent that we forgive. He doesn't want sin to ruin our lives.
Sometimes we resist forgiving those who have offended us because "just letting it go" seems like we'll make it way too easy on the abuser—as though we're letting the sinner off the hook and giving them carte blanche to sin again. On the contrary; forgiving someone means that we are putting them fully in the hands of the living God to let Him punish, vindicate, or pardon as He wills it (see Romans 12:17–21). By forgiving the offender, we are not putting our faith in our own ability to exact justice, but resting our faith firmly in a righteous and faithful God.
Step 3: Move Beyond Victim-hood
In her booklet, "God's Complete Provision for Healing the Pain of Past Childhood Sexual Abuse" Jan Fletcher says:
If you are a victim, for a time you can receive sympathy and that is a very appealing thing. It may be so appealing that you want to stay there. Certainly, there is a time and place to be consoled for the pain of the past, especially pain that was inflicted by others. But we need to be so careful that as those who have suffered childhood sexual abuse, we don't promote ourselves as victims just to avoid facing our real problems.
When it comes to the healing of sexual intimacy in marriage, a colossal hindrance to enjoying a vibrant love life is a "victim mentality." If a woman stays a victim, she remains a wounded child. She may appear to be a competent adult, but inside she's still that crushed little girl who was violated all those years ago. It takes tremendous courage for the abused woman to rise up on the inside and refuse to stay a victim. But as she makes the brave decision to leave the past behind and reach out for God's healing—He will more then meet her halfway.
When a woman is caught up in the role of victim in her marriage, this often means that her husband is cast in the role of caretaker. She requires "special handling." And in reality, the abused woman may indeed require special handling for a while. But eventually, the husband's needs must come into play. He needs a partner, a lover, and someone who is passionate about him. He needs to be able to freely enjoy his wife physically and sexually without feeling guilty about it. The bottom line is this; in order to have a healthy marriage both partners need to freely enjoy one another physically and sexually without feeling fear, guilt or shame.
With God's help and healing Kimberly began to see herself as a strong, mature, whole, loving, sexual spouse…as Ron's lover, partner, and friend. When she felt tempted to retreat back into that old familiar role of a wounded, defenseless, frail, unavailable wife—she made the important choice to resist those thoughts and move forward.
"We learn to live differently by living differently, not by thinking about living differently". Leslie Vernick, The Emotionally Destructive Relationship
As Kimberly lived out of her identity as a strong, mature, whole, loving, sexual spouse that reality became more her identity than her old wounded, defenseless, identity…..
The healing from sexual abuse is many times an intricate issue that requires a plan of action, time, and plenty of patience by both partners. In addition to the three foundational principles we discussed above, more suggestions for the healing of sexual intimacy after the sin of sexual abuse are:
• Enter into qualified Christian counseling
• Seek out several trusted prayer partners for ongoing support during the healing journey
• Institute a regular husband and wife prayer time to begin addressing the issue of sexual healing together
*Names have been changed
Recommended Reading:
The Healing Path: How the Hurts in Your Past Can Lead You to a More Abundant Life by Dan B. Allender
Beyond The Threshold of Hope, by Diane Langberg
Set Free by Jan Coates
Have you experienced something in your past you haven't been able to talk about? Talk confidentially to an email mentor.