Does God Send Valentines?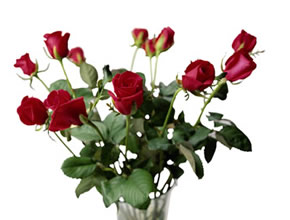 Remember those tiny valentine cards we received from classmates in elementary school? And how much we hoped for something special from a certain boy? One was so precious to me I didn't share it with anyone, but hid it in my sock drawer. I still remember that because there is something so special about Valentine's Day. Years later, our lingering emotions can still make this one of the toughest days of the year.
During our 27 year marriage, my husband always gave me traditional valentines such as flowers or jewelry, but in January 1986 he abandoned our marriage. Although he had said he wanted to leave, he obviously had to dig deep for nerve to do so, and at first he acted uncertain about his freedom. His reticence, however, was short-lived.
"You shouldn't feel rejected"
Each time he returned to collect a few more things or talk about the legalities of our separation, he seemed more arrogant. Clearly delighted with his freedom, he made no effort to conceal his feelings. He reminded me of a little kid with a new toy, and although I resented his flippant comments, I said nothing. I wouldn't give him the satisfaction of knowing I was hurting and lonely. While he seemed nonchalant and carefree, I could only deal with life one day at a time.
He didn't seem to have a clue about what I was feeling or going through. Once when we talked about his having left, I said I was grateful he hadn't had an affair which would have made me feel even more rejected. His response, "You shouldn't feel rejected," seemed callous. I didn't answer. There was no point – our perceptions of rejection weren't even close.
I joined a support group of eight women; six past fifty (one seventy), and two in their twenties. All in various stages of divorce proceedings, we could laugh and cry together. Open about my faith and confidence that God is always with me, I shared Isaiah 43:1-3 (NRSV), a favorite Bible verse, hoping it would encourage the others as it did me,
"Do not fear, for I have redeemed you; I have called you by name, you are Mine. When you pass through the waters, I will be with you; and through the rivers, they shall not over-whelm you; when you walk through fire you shall not be burned, and the flames shall not consume you. For I am the Lord your God."
Who will separate us from the love of Christ?
God definitely was with me in grief that threatened to overwhelm me. When friends and co-workers marveled at my ability to cope, I explained, "I trust God and you're seeing His strength in me."
Romans 8:35 (NRSV) asks, "Who will separate us from the love of Christ?" The grace-filled answer is no one can! No matter how intense our pain may be – nothing can separate us from God's love – nothing! Several years earlier I jotted down this radio comment by Chuck Swindoll, "Faith is like a lens…it doesn't change the situation – just your perspective."
One Sunday, when I was lonelier than usual and driving to an evening worship service, I stopped for a red light. There, facing me in his convertible was my husband and a younger gal. I couldn't wait to get away before he saw me alone in my car.
Entering the sanctuary with a heavy heart, I seated myself next to a tiny gray-haired lady. "I'm Grandma Rose," she said, a smile lighting up her face. Later when we sang a song about God's love, Grandma Rose unexpectedly reached over and gently took my hand – just when I desperately needed someone to cherish me. It was as if her hands were the loving hands of Jesus, and her face radiated Christ's love. My sitting next to Grandma Rose was no coincidence, but God's tender way of easing my loneliness.
When the service ended I turned to Grandma Rose. "I came here sad and lonely, and when we sang about God's love I prayed that I could feel it. That's when you reached over and touched me, and I felt God's love through you." Grandma Rose beamed with joy and I had a splendid new friend whom I believe was one of God's angels. Driving home I was more certain than ever – God loves me! I didn't have a clue about my future, but I was at peace. God would unfold His plan for my life when He knew I was ready.
"Mom – Love Jim (your son)"
On Valentine's Day at the elementary school where I was School Nurse, co-workers happily chatted about cards and gifts from their husbands and boyfriends. I tried to share their enthusiasm, but it was difficult because I knew I wouldn't receive any. I was wrong. I arrived home to find lovely flowers and a card signed, "Mom – Love, Jim (your son)."
I laughed because he had been signing his correspondence that way since his first postcard from camp when he was five – as if his Daddy and I would forget who he was! Now Jim's love and sensitivity brought tears, but they were happy tears.
Some of us won't receive the valentines we desperately want this year, but our Heavenly Father never forgets who we are! He created each of us, loves us more than we can ever understand, and He's greater than anything we can ever face! Why God permits some things to happen we may never know until we see Him face to face, but we can trust His perfect will and timing.
And because He loves us, He wants to communicate with us just as we do our loved ones, but we must be still and walk close enough to hear Him and know Him well enough to recognize His voice. In my book, wHispers, I share some of God's whispers to me – His valentines, if you will. They can come any time and they're the best!
"I will rescue you"
God doesn't hide his love in a sock drawer as I did my special valentine. Sometimes He whispers or sends a Grandma Rose or flowers, and long ago God wrote love letters to us in His Holy Word where we can read them again and again – any time we want. Sometimes, as He did for me, God even sends a new husband! Our Father works in unique and wonderful ways to make His dreams for our lives come true. Knowing that, what hope and joy we have and how blessed we are to be His children!
Here is just one of God's valentines which I've altered that so you can personalize this love letter from God to you:
"The Lord says, 'I will rescue __________ who loves me. I will protect __________ who trusts in my name. When __________calls on me, I will answer; I will be with __________ in trouble. I will rescue __________ and honor her.'" Psalm 91:14-15 (NLT)
This Valentine's Day let's plan to stay extra close to God and listen for His whispers. I believe our Father will have a special valentine for each one of us.
***
Parts of this article are excerpted from Shirley's award winning book, wHispers (when He is so precious even rocks sing).