Olympic Skater Delivers Speed – With a Smile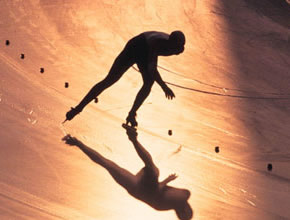 The starter's pistol blasts, and before the first echo reverberates around the rink, Catriona LeMay Doan bolts down the ice.
She powers around the oval in a graceful rythmn – her legs sweeping left, right, left, right; her body gliding along in peaceful motion. Her thighs burn but she bites down on the pain. It's the Olympics, and Catriona's hours, days and months, even year, of training culminate in this race.
Within seconds, it's all over. Catriona streaks across the finish line, her arms wave in jubilation, her face radiates a smile. She's just captured the gold medal in the women's 500-metre speed skating race at the 1998 Winter Olympics in Nagano, Japan.
Life is a process for 27-year-old Olympian
"Sometimes, it will hit me. 'Wow, I did that,' she says. "When I meet people who have that reaction, I think, 'It's not a big deal, really.' I'm the same person I was a year ago." This down-home attitude keeps Catriona even-keeled. "Every medal I've won has been a step towards the gold," says the 27-year-old Olympian. "I look at life as a process, and if I took the gold medal as the top, there'd be nowhere else to go."
Skating is a full-time commitment
Catriona knows she can skate better. "I have better races ahead of me," she says. That's why she trains six days a week, several hours each day – cycling miles, skating laps, improving her technique, pushing her body and mind to the limit. "Skating is not a hobby for me but the focus of this stage of my life," she adds. "It's a full-time commitment."
A commitment Catriona made when she was nine years old. Her sister noticed a poster at the local rink inviting kids to speed skating try-outs. Catriona signed up and a year later, she topped her age group at Canada's national championships. After years of racing and training, she earned a spot at the 1994 Winter Olympics in Lillehammer, Norway – only to find disappointment. During the 500-metre race, she caught a skate edge, hit the ice and crashed into a barrier. "It was a definite career low," she admits, especially with thousands of fans watching on television. It took months before she found the courage to skate again.
But Catriona did – this time with a renewed perspective to concentrate on skating well and not worry about mistakes. "I've learned not to put so much pressure on myself for a certain result," she says. "God has given me a peace about my life, and my sport 'cause I know He's always there. No matter how I do in my skating or any other part of my life, I'm never alone."
Catriona's faith keeps her grounded
Though Catriona's at the top of her sport, her faith in God keeps her grounded, and drives her to skate the best she can. "I do the work and the training, but I depend on God for it all," she says. "I'm constantly striving, always pursuing the goals I set out for myself. My husband Bart will tell you I'm the most stubborn person he knows!"
This blend of determination and contentment – in life and in God – shows in her bubbling smile, an almost giddy grin. "I love to smile, and it's something I'll always do," she says, in all seriousness.
"I want people to look at me and say 'She's so happy. What's so good?' Especially since we live in a world where people are so worried and quick to be unhappy," she adds. "I'd like to be remembered as a winning skater, and a woman who always smiled."
God's love is what brings her ultimate joy
What's so good about Catriona's life? "Being loved," she says, without hesitation. "Being a Christian, I know God's love personally. That brings joy to my life. And knowing Bart loves me, and that he loves God too – I can't ask for more. No matter what happens in work, finances, in sport or in anything, if I'm loved, I'll be fine."
No matter what happens in your life, can you still radiate joy? Do you want people to look at you and ask why you're so happy?
God wants to be our leverage in living, empowering us to feel better about ourselves, more excited about our future, more grateful for those we love and more enthusiastic about our faith.
If you are a believer in Jesus Christ, God has given you His Holy Spirit to help you live life according to His perfect plan. Why not pray this simple prayer and by faith invite Him to fill you with His Spirit:
"Dear Father, I need you. I acknowledge that I have sinned against you by directing my own life. I thank you that You have forgiven my sins through Christ's death on the cross for me. I now invite Christ to again take His place on the throne of my life. Fill me with the Holy Spirit as You commanded me to be filled, and as You promised in Your Word that You would do if I asked in faith. I pray this in the name of Jesus. As an expression of my faith, I thank You for directing my life and for filling me with the Holy Spirit. Amen."