Being an Esther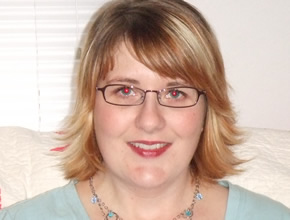 Having fibromyalgia has taught me to see what's really important in life.
I have been a church attendee most of my life. I knew a lot ABOUT God, but like many people, I didn't think I needed God in my life.
When I headed off to college, I started getting involved in weekly Bible studies, prayer meetings, and conferences. God really began to show me what it meant to have a personal relationship with Him. I began to understand how much God loves me – He loves me so much that even though I am a sinner, He sent His Son to die for me. I always took that for granted before. Even though I was beginning to understand God more, I wasn't ready to give EVERYTHING in my life to Him.

Diagnosed with fibromyalgia
Later that year I found out that I had a chronic illness called fibromyalgia. Fibromyalgia is characterized by chronic fatigue, intense muscle pain, sleeping problems, stomach problems, and headaches – whatever is associated with the nerves and muscles. A person cannot die from this illness but it can be very debilitating (and is life-long).
At the time of my diagnosis, I was only 19 years old. I was totally devastated. I mean, I had my whole life ahead of me – I didn't know what I was going to do. But I did know I wasn't going to turn to God yet. I remember thinking, "God can't use me; it's hopeless. I can barely move because of the pain and I get so tired I can't even talk – How in the world am I going to be able to serve God?"
Much of that first year was spent in self-pity and depression. Questions like, "Why did I have to get this?" and "How come I am the only one in my family to have it?" seemed to enter my mind more than I could count.
As the year went on, things just seemed to get worse and worse. I finally came to a point where I prayed to God and asked Him to take over my life because I couldn't deal with it anymore. I told God that I would be willing to do whatever He wanted – but He was going to have to give me the strength and energy to do it. And He has. Ever since then, my life has taken on a new purpose, and a new goal.
Living with a chronic illness
Yes, I still live with a chronic illness (and daily migraines and ovarian cysts), but God gives me the energy and strength that I need to do His work. In fact, most people wouldn't even guess that I have an illness, and that in itself is a testimony to God's power, love and grace in my life!
Isaiah 40:31 comes to mind, "But those who hope in the Lord will renew their strength. They will soar on wings like eagles; they will run and not grow weary, they will walk and not be faint." This verse is so true in my life. Not once has God NOT given me the strength to do what He asks me to do. Sure, I still have bad times where I don't feel well and I have to rest – but I could also tell you story after story of how God has miraculously "healed" me so I could go to speaking engagements or so I could meet one on one with individuals. Serving Christ is so exciting to me because He makes the weak strong: "My grace is sufficient for you, for my power is made perfect in weakness" (2 Corinthians 12: 9).
I used to joke about reading the book of Job because it was my life story – but now, I prefer the book of Esther. Esther – because she was a woman willing to be used by God for His glory, no matter what the cost. Having a chronic illness has taught me to see what's really important in life. And I have learned to appreciate the opportunities God gives me to minister to others.
I used to think that God couldn't use me and that I might as well die, because it would be better for everyone. But now I look at the life God has given me and I rejoice that I am able to be part of His plan. What a privilege it is to serve Him. I wouldn't trade my life with anyone else – because God chose ME to serve Him in a special way!
And sure, sometimes I still struggle with seeing how God can use me. But those are the times that God always seems to be nearest to me. And as I continue to trust God He blesses me more and more. Even with the pain I struggle with, I am filled with an overwhelming sense of joy and happiness, because God loves me no matter what I do! I don't know what I'd do without the love and peace of God in my life!
What about you? Do you need a solution to the chaos of life? Are you tired of trying to do it all yourself? Ask God to be the leverage you need in being more confident in who you are, more in tune with those you love, and more effective in your work for Him. Why not pray this simple prayer and by faith invite Him to fill you with His Spirit:
Dear Father, I need You. I acknowledge that I have sinned against You by directing my own life. I thank You that You have forgiven my sins through Christ's death on the cross for me. I now invite Christ to again take His place on the throne of my life. Fill me with the Holy Spirit as You commanded me to be filled, and as You promised in Your word that You would do if I asked in faith. I pray this in the name of Jesus. As an expression of my faith, I thank You for directing my life and for filling me with the Holy Spirit. Amen.