God Answers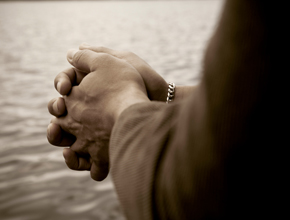 "Call to me and I will answer you, and show you great and mighty things, which you do not know." Jeremiah 33:3 (NKJV)
As a Breakthrough Prayer team for our children's high school, we were privileged to have a little room inside the school where we could meet for prayer. We actually laid hands on our door and prayed, "God please bring the most hurting and needy kids to our door."
One afternoon as we finished our time together we stepped outside the door to find a student standing against the wall. It was hard to tell if it was a girl or boy because she was shrouded in black with her hoody pulled over her head. She looked very sad and broken, and it was evident that she had been cutting herself.
After this initial meeting, we began to look out for her in the halls and started to build a relationship with her. We found out that she had threatened the school on the anniversary of the Columbine shootings, saying she would bring a gun and kill all the blond-haired blue eyed students. Her threats were taken very seriously and the police were involved.
Forty days of prayer
One day I asked her if she would like to come to a Bible study that one of the moms was having for kids from our school. "No thanks," she responded. "I'm more the pagan type." I reported that back to our team and we all agreed to pray for forty days on her behalf. Our forty days ended on a Sunday. On the following Tuesday we were back in the school. As I turned to close the door of our room, again I saw her standing against the lockers looking dejected.
"Are you Okay?" I asked.
"Don't even ask,"  she replied. "There's just too much."
I decided to press just a little more. "Just tell me the number one thing."
The hard realities of her life began to be poured out. She became an orphan when she was four years old, and had been shuffled around between four aunts ever since, she was also a lesbian and a drug addict. Now she was getting death threats in her locker. Although we had been told specifically by the school principal that we were not to "proselytize" in the school, and had always respected that, there was nothing we could say to this broken little girl but to share the love of God with her.
Within moments of the prayer moms gathering around her and sharing with her, she pulled a cigarette from her pocket, crushed it, dropped it into the garbage can and said, "I don't need this anymore!"
We invited her to the outreach the school's Christian kids' club was holding the following week. She wholeheartedly agreed to go, and that night she received the Lord. As I drove her home after the meeting she said, "I'm going to drive the last nail in the devil's coffin tonight, I'm going to burn my satanic bible and my Marilyn Manson CD's. She stayed awake all night reading the Bible we'd given her. My daughter saw her on the bus the next morning, Bible in hand, still reading. Over the next few weeks we watched with great joy as she was transformed from a dark shadow on the wall to a young lady who began to bloom with color and style. Now she had friends as the kids from the Christian club gathered around and embraced her.
Total transformation
Some months later we were invited to her baptism. The last time I talked to her she was involved with work at a recovery house.
Prayer is a mighty weapon that has the power to dramatically change lives, communities, and whole nations.
"The Spirit of the Lord God is upon Me, because the Lord has anointed Me to preach good tidings to the poor; He has sent Me to heal the brokenhearted, to proclaim liberty to the captives, and the opening of the prison to those who are bound; To proclaim the acceptable year of the Lord, and the day of vengeance of our God; To comfort all who mourn, to console those who mourn in Zion, To give them beauty for ashes, The oil of joy for mounting, the garment of praise for the spirit of heaviness; That they may be called trees of righteousness, the planting of the Lord, that He may be glorified." (Isaiah 61:1-3, NKJV)
Take action:
Learn how to pray for an hour a week
Find a Breakthrough Prayer Group in your area