Holy Week Bible Reading Guide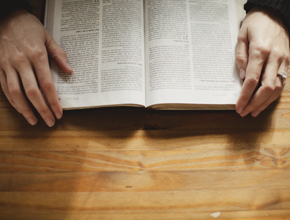 Easter is not a day – it is a season. This year begin your Easter preparation with Holy Week because without the crucifixion, there would have been no resurrection.  Had Christ not hung on the cross, taken on our sins, and then spent three days defeating Satan's power, His rising again would not have been so meaningful.
Starting on Sunday, begin to read about Jesus' last week on earth as a man. Start with Palm Sunday – the triumphal entry into Jerusalem and the meaning behind it as fulfilled by the prophets. Read  Luke 19:28-42 and Zechariah 9:9  (The story also appears in Mark 11:1-10, John 12:12-20, and Matthew 21:1-9.)
Reflect on how often you praise God just for coming into your life.
Monday  Read  about Jesus at the Temple in Luke 19:45-20:8 ( also Matthew 21:12-16. Mark 11:15-16, and John 2:13-16).
Reflect on your body as the Temple. What does Jesus need to clean before He can truly enter?
Tuesday  Read about Jesus teaching at the Temple in Luke 20:9-9 (and also Matthew 21:23-27, Mark 11:27-33).
Reflect on the times Jesus' truth have seemed harsh to you or hard to follow. Did you grumble and back away? Did you question Him?
Wednesday  Read Luke 20:41-47 & 22:1-6.  (Also Matthew 22:41-23:7, 26;2-5, Mark 12:35-40, 14:1-11)
It is sometimes hard to be a disciple of the truth and the way. Sometimes we want Jesus to do what we want or act the way we feel he should. Reflect on this and how that led Judas astray.
Thursday – Maundy Thursday – the Day of the Last Supper.  Read Luke 22:7-45 ( have tissues handy).
When you receive communion are you really doing it in remembrance of Him?  His blood cleanses us from sin and His body feeds us the truth on which we hunger for.  How quickly do you go off on you  own and not stick with Jesus.
Tonight- see if you can spend one hour praying with Jesus. Scripture tells us He prays for us unceasingly.
Friday – Good Friday. Today sometime between 12-3pm if you can, reflect on Jesus' death on the cross.  Read  Luke 22:47-23:48.  You can also find it in the other gospels.
If you can, attend a Stations of the Cross service. Even if you sit in the pews and do not follow all the movements of kneeling, crossing your self, etc,  it can still be a very heart-piercing service.
                                         -or –
Rent one of the movies about the life of Jesus on video and really watch it knowing He did this all for YOU. He loves you that much. As Michael Card sings, "they didn't have to nail his hands and feet because His love would have held him on the cross."
Saturday –  Jesus is in the tomb, but wait. He is not. The women leave his body in a tomb and hurry away because their tradition said they had to wait to prepare his funeral until after the Sabbath. Read Luke 23:50-56. ( Also Mark 15:42-27, Matthew 2:57-61, and John 19:38-42.)
As you prepare for Easter think of what Jesus is doing for your sake even though you can't see Him.
Sunday – Easter ! Awaken with a song in your heart. HE IS RISEN -THE LORD IS RISEN INDEED!!
Go to church. Be with family. Praise Him all day long for this wondrous act.
Remember – every week is a mini Holy Week and every Sunday is a mini Easter.  We may praise Him, and then  not understand, we may back away, we may even turn to the world instead of to Him. But we can come  kneel at his feet, give Him our sins and rejoice in forgiveness. We can approach His table and sup with Him. And we can do it all in remembrance, both today and forever more. Amen.
More ways to celebrate Easter:
Share this video: This is why we say "Happy Easter!"
9 ways to celebrate Easter