Simple Ways to Share the Spirit-filled Life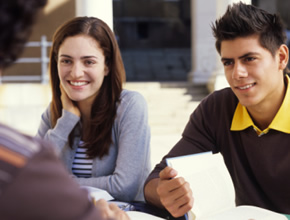 It's the key to a powerful Christian life. The source of joy, victory and fruitfulness.
And yet, many believers neither comprehend or experience the Spirit-filled life.
Just how do we follow the command to "be filled with the Spirit?" (Ephesians 5:18b) And how does being filled with the Holy Spirit affect our daily life and actions?
Here are seven "word pictures" that you can use to deepen your understanding and illustrate for others what it means to be empowered by our Helper, the Holy Spirit.


1. Driving a car – Think of your life as a car, and that when you invited Jesus Christ into your life, He came in and took the driver's seat. He is the best driver and He knows the way. But time and time again we think we know better, so we take the wheel back. When we realize that we have taken over the wheel, we need to confess it and move over and let Him have it back. "Because those who are led by the Spirit of God are sons of God" (Romans 8:14).

2. Hurricane lamp – Light cannot shine through the glass of a hurricane lamp if the chimney is dirty or foggy. When we realize that our "chimney" is dirty, we need to get rid of the dirt (confess the sin) and clean it up (ask the Spirit to fill us anew). Then the light can shine more brightly again. "For you were once darkness, but now you are light in the Lord" (Ephesians 5:8).

3. Throne checks – When we ask Christ into our lives we give Him the throne of our lives. However, there are times we nudge Him off, and because He is a gentleman, He won't take His place back on the throne until we ask Him to.We need to get off the throne (confess our sins) and allow Him to retake the throne (ask to be filled with the Spirit). "Flesh gives birth to flesh, but Spirit gives birth to Spirit" (John 3:6).

4. Putting on a glove – A glove without a hand in it can do nothing. That would be like us without Christ in our lives, working through us. Put a hand in the glove however, and suddenly it can do amazing feats! We need to allow the Holy Spirit to work through us and we will see God do amazing things! "Don't you know that you yourselves are God's temple and that God's Spirit lives in you?" (1 Corinthians 3:16)

5. Chocolate syrup – Pour chocolate syrup in a glass of milk. Stir it up and let it take control, and you have chocolate milk! If we want to reflect Christ in everything we do, we need to allow the Holy Spirit to be stirred up and fill all of our lives. If we are showing our old nature, then we need to confess that, and stir up the Spirit again by asking Him to fill us again. "But the Counselor, the Holy Spirit, whom the Father will send in my name, will teach you all things and will remind you of everything I have said to you" (John 14:26).
6. Paddling and sailing – If we were to use a paddle while in a sailboat, it would take a lot of effort and we would not get very far. In the same way, when we try to live our lives for God in our own strength, it is a struggle. Instead, when we put up the sail, the wind carries us and it takes very little effort. Similarly, in our spiritual walk the Holy Spirit is the wind that carries us. We simply need to allow God to do the work in us and work through us. "But God has revealed it to us by his Spirit. The Spirit searches all things even the deep things of God" (1 Corinthians 2:10).
7.  Spare tire or hitchhiker– Sometimes we treat Jesus like a "spare tire." We take Him out of the trunk when we have a flat tire and run Him until the crisis is over, but put Him back in the trunk afterwards. Or we can be treating Jesus like a hitchhiker. We let Him in the car with us but only let Him ride part of the way. Yet as our Lord and Savior, Jesus doesn't want to remain a spare tire or a hitchhiker. He wants to drive the car. So we need to move over and confess this as sin and allow the Holy Spirit to empower us. "He will bring glory to me by taking from what is mine and making it known to you" (John 16:14).
There is perhaps no message more life-changing you can share with a fellow Christian than how to experience the ministry of the Holy Spirit. Be bold. Ask God to help you take opportunities to share this truth with the believers you meet.
What about you, are you allowing the Holy Spirit to fill — control and empower — your life? You can ask Him to do that, right now by faith. Here is a suggested prayer:
Why not pray this simple prayer and by faith invite God to fill you with His Spirit:
Dear Father, I need You. I acknowledge that I have sinned against You by directing my own life. I thank You that You have forgiven my sins through Christ's death on the cross for me. I now invite Christ to again take His place on the throne of my life. Fill me with the Holy Spirit as You commanded me to be filled, and as You promised in Your Word that You would do if I asked in faith. I pray this in the name of Jesus. As an expression of my faith, I thank You for directing my life and for filling me with the Holy Spirit. Amen.