How to Have an Inductive Bible Study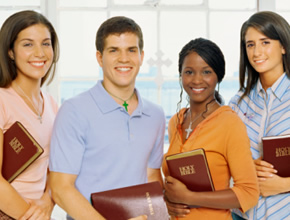 Do you long for a deeper, more meaningful relationship with God, but seem lost when you open your Bible? Do you read portions here and there, but forget what it said five minutes later? Are you frustrated with getting everyone else's opinions about what the Bible says on a certain subject, and wondering what's really true? Do you think it's really possible to understand Scripture even if you aren't a theologian?
The Bible study method I am about to share with you revolutionized my life. Five years ago, I was introduced to a lady named Kay Arthur, founder of Precept Ministries. In a three hour seminar on the book of Haggai, she made the words of Scripture come alive for me. I took those same methods and began applying them to regular Bible study and have been totally changed by what I've learned. I've since taken quite a few Precept Bible Study courses and am totally sold on this method.
What inductive Bible study is
Inductive Bible study uses the Bible as the main source of information about the Bible. Here is a good illustration I heard about what this means.
If I decided that I wanted to learn about frogs, I could use one of two methods. One way would be to go to the library and check out all the books that had information about frogs. I could then read them and find out what each different author had to say about frogs. When their information conflicted, I would have to try and decide who was right. This could all be done without a lot of effort and I wouldn't even have to touch a frog.
The other way I could go about my research is to go down to the pond and find a frog. I'd observe the surroundings, which insects it ate, which it left behind, when it was awake, when it went to sleep, how it mated, where, when and how it laid it's eggs, etc. When I was finished, I'd take the frog back with me to the lab and dissect it so that I could see the inner workings of a frog. I would then have first hand experience with the frog and would know for sure that my information was accurate. It would take more time and effort, but I would not quickly forget what I had seen for myself.
I'm sure you can see my point. If we study the Bible itself, asking the Holy Spirit to teach us, we will know it because we know it – not just because we heard someone else say it.
The three basic steps
There are three basic parts to inductive Bible study.
Observation: What does it say?
Interpretation: What does it mean?
Application: How does the meaning apply to me?
Once we know what a portion of Scripture means, we are responsible for putting it into practice in our own lives. This, of course, is the goal of Bible study – to be transformed by the Word of God, developing a deeper more intimate relationship with God Himself.
It is of utmost importance that our observation is correct because our interpretation and then application will rest on it. Often these things will happen simultaneously as God gives you insight. When something you are studying makes an impression on you, stop and allow God to speak to you.
Observation
Pray, asking God to teach you (John 16:13-15).
Find out the context – this is very important to accurate interpretation.
Example: sharp

a pointed object
a musical term
a thin keen edge
quick witted
bitingly cold
stylishly dressed

The context of each of these determines the meaning.

Look for the obvious – facts about people, places, events – often these will be repeated making them easy to see. This provides a framework for the text.
Be objective – let Scripture speak for itself. Don't try to make it say what you've always thought it said. Ask God to make His truth obvious to you and then adjust your life accordingly.
Read asking questions of the text.

Who? – Who wrote it?
Who did he write it to?
Who are the main characters?
What? – What are the main events?
What is the meaning of the message?
What are these people like?
What is his purpose in saying this?
When? – When was it written?
When did this event happen?
When will this take place?
When did he do or say this?
Where? – Where was this done?
Where was this written?
Where will it happen?
Why? – Why was this written (Why did God want me to know this?)
Why did the author say so much, or so little about this?
Why should they do such and such?
How? – How did it happen?
How did they do it?
How do I do that?
Record your answers in a notebook. You will be amazed at how much you learn that you did not realize was there.
It will be helpful if you use a Bible that you are willing to mark in.
Interpretation: Watch for key words
Marking key words consistently throughout the text will help you quickly identify common themes. Colored pencils and a four-color pen work great together. You can use the pen to make little symbols that relate to the key words. For example, any time I see the word "Jesus," or a pronoun of it, I mark it with a red ink cross. Key words always answer the question who, what, when, where, why or how. They are most often words that are repeated. Names of key people in the story and their pronouns are key words. God, Jesus, and Holy Spirit or any words that mean the same, including pronouns, are also always key as we are seeking to discover more about God.
Application: Let's try one
Luke 7:36-50 NASB
36 Now one of the Pharisees was requesting Him to dine with him. And He entered the Pharisee's house, and reclined at the table.
37 And behold, there was a woman in the city who was a sinner; and when she learned that He was reclining at the table in the Pharisee's house, she brought an alabaster vial of perfume,
38 and standing behind Him at His feet, weeping, she began to wet His feet with her tears, and kept wiping them with the hair of her head, and kissing His feet, and anointing them with the perfume.
39 Now when the Pharisee who had invited Him saw this, he said to himself, "If this man were a prophet He would know who and what sort of person this woman is who is touching Him, that she is a sinner."
40 And Jesus answered and said to him, "Simon, I have something to say to you." And he replied, "Say it, Teacher."
41 "A certain moneylender had two debtors: one owed five hundred denarii, and the other fifty.