Special Delivery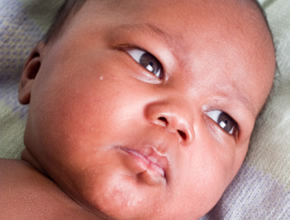 In February 1996, I was reading an article of mine that had just come out, in the Christian Reader magazine. The article was about the eight-year struggle my husband and I went through to have a baby, and how we were finally told by specialists that we needed to accept the fact we would never have biological children. It told how we had been considered too old to adopt by some agencies and too poor to afford the fees of other agencies. The article told how through all this discouragement, I clung to the words of a friend of mine who said, "Marsha, somehow, I don't know how, but somehow, God is going to use your whole struggle with infertility; for His Glory."
I had been praying for months for a glimpse of that Glory. Following is the story of what happened next.
For six months I'd been praying earnestly. I'd asked everyone I knew, and even some I didn't know at all, to pray & that somehow, if it be God's will, my husband Tom and I would be able to have a baby.
The most precious prayers were offered by little children. One five-year-old prayer warrior friend gave God suggestions: "Dear God, please send Marsha a baby. Maybe someone could give her one, or she could just find one on the street. Thank you. Amen."
Could prayer change the facts?
My husband didn't pray. He'd stopped praying after the last specialist told him all the reasons I'd never conceive. He'd stopped praying after the last adoption agency turned us down. He'd stopped praying after he realized the cost of a private adoption. And he'd stopped praying when he realized that I was in full-blown menopause.
Being a scientist, Tom had seen all the facts. And in his lifetime, he'd never seen prayer change facts.
As I re-read the Christian Reader article I'd written six months before about our struggle to have a family, I suddenly didn't feel well. Something wasn't right.
Maybe you have cancer, the hypochondriac in me taunted.
I made an appointment at the infertility clinic. I told them my concerns and asked for some tests–including one more pregnancy test.
They looked at me with pity in their eyes and said gently but firmly, "No."
"The doctor has shown you your hormone count. You haven't had any cycles for seven months, because you are in menopause. Asking for another pregnancy test only indicates you are not accepting things as they are."
Although they didn't come out and say it, they implied I needed a therapist to help me deal with my infertility.
I begged for the extra test; they resisted. Finally, I convinced them.
But they weren't going to rush the test through while I was there. Why bother?
The next day at home, the phone rang. "Marsha, your pregnancy test came back positive."
"For what?" I said. Maybe there's some new type of cancer that only shows up on a positive pregnancy test, I thought to myself.
"For pregnancy."
"What!?!"
After the sixth repetition, I said, "Could you hold for a minute? I'd like to get my husband on the phone. "
With trembling fingers I speed-dialed a three-way call.
"Tom," I said, with an urgency in my voice, "I've got the hospital on the line. Nurse, could you please tell my husband what you've just told me?"
"Your wife's pregnancy test came back positive."
"For what?" Tom also wondered if something was wrong.
"For pregnancy. Your wife is pregnant. "
With characteristic understatement, Tom said, "Well, that's interesting. "
How is this possible?
The next day I went in for a sonogram. A heartbeat wasn't visible yet, but there was a yolk sac. From a blood test they determined I had conceived 11 days before. It was exactly the time for me to get supplemental progesterone to help the baby adhere to the uterine wall–one of my problems in conceiving.
Over the next 14 days, I had four more pregnancy tests and three more sonograms at the hospital's request. I think they were having trouble dealing with the facts.
The first time I saw the little heart beating, I burst into tears. My full-term pregnancy was uneventful – unless you count every day bathed in praise for the answer to our prayer. On October 22, 1996, Amanda Joy was born. We call her Miracle Mandy.
It's hard to imagine a child who was ever more loved or such a great boost to her daddy's belief in prayer.
In our kitchen, by the back door, there's a little imprint of Amanda Joy's feet when she was just a few months old. Underneath the imprint is a verse: "What is impossible with man is possible with God."
We often tell our little prayer warrior friend that God listened to–and took–a child's suggestion. We did find our baby on the street –the street of faith, paved with the prayers of believers.
He settles the barren in her home as the happy mother of children. Praise the Lord (Psalm 113:9).

God wants to be our leverage in living, empowering us to feel better about ourselves, more excited about our future, more grateful for those we love and more enthusiastic about our faith.
If you are a believer in Jesus Christ, God has given you His Holy Spirit to help you live life according to His perfect plan. Why not pray this simple prayer and by faith invite Him to fill you with His Spirit:
Dear Father, I need you. I acknowledge that I have sinned against you by directing my own life. I thank you that You have forgiven my sins through Christ's death on the cross for me. I now invite Christ to again take His place on the throne of my life. Fill me with the Holy Spirit as You commanded me to be filled, and as You promised in Your Word that You would do if I asked in faith. I pray this in the name of Jesus. As an expression of my faith, I thank You for directing my life and for filling me with the Holy Spirit. Amen.
Copyright 2001 by Marsha Marks. Reprinted from the book, 101 Amazing Things About God.